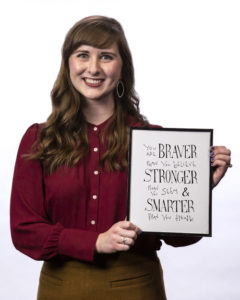 I chose to work in Student Services because:
I love working with students! Every student has a unique story and set of characteristics that I find incredibly powerful and inspiring. Helping a student discover their passion(s) and pursue their dreams is both exciting and rewarding. I was blessed with extremely encouraging and empowering advisors and mentors during my college experience that helped me find and develop my inner strength and passions, and I want nothing more than to pay that forward by supporting and empowering every student I can!
My favorite vacation destination is:
This is tough, I love to travel. There is nothing like being at the beach and swimming in the ocean, but I also love hiking and being in the mountains! My favorite city in the world is Galway, Ireland. I studied abroad there and it is just a magical & beautiful city.
My favorite way to spend a Saturday is:
After sleeping in of course, my husband and I love to go out to a late breakfast somewhere in Madison – perhaps stop by the Farmers Market if we're downtown. Afterwards, we spend time with our puppy either walking her or playing with her outside. In the afternoon / evening, I love sitting by the fireplace and watching movies or getting together with friends for a game night or night out in Madison.
If I could only eat one meal the rest of my life:
Chicken fried rice – YUMMM! OR……. Any kind of potato!
My favorite window view is:
Something looking over water – lake, ocean, pond, stream – does not matter! I love being on the water or near it. It is SO pretty and peaceful.
Favorite quote:
"Believe you can and you're halfway there." –Theodore Roosevelt