Why I chose a career in student affairs: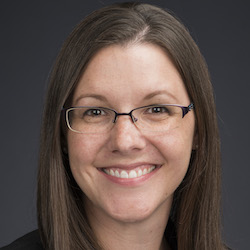 The support students receive during their education journey can have a huge impact on their academic success. When I started my career in higher education and realized the impact the right information and guidance can make for students with pursuing their career goals, it ignited a passion in me. Adult learners have so many responsibilities that they balance as students, so I find it very rewarding when I can help them navigate solutions and encourage them to stay on track.
What I'm looking forward to most about being a Success Coach:
I absolutely love connecting with students and learning more about their goals and aspirations, and then working with them to create pathways for achieving that success. I'm most looking forward to walking alongside students and celebrating with them as they overcome barriers and hit milestones, no matter how big or small.
Experience and Education:
I graduated with a Bachelor of Science in Psychology from University of Wisconsin- Parkside. From there, I went on to pursue a Master of Science in Education Psychology with a focus on School Counseling. Through that process, I realized that the K-12 education space was not the right fit for me. When I started my career in higher education as an enrollment counselor, it became apparent that my passion was to support adult learners. I have almost 8 years of experience working in higher education. Most recently, I served as the Adult Student Enrollment Counselor at University of Wisconsin- Parkside.
Fun Stuff:
My husband jokes that I love to fill our weekends with small adventures! I have two young kiddos, so I find any opportunity to check out a new playground or park that we can explore. Life is certainly not boring around here! When I do find time for myself, I'm usually digging into some sort of DIY project that allows me to learn a new skill or be creative.