General
The UW Flexible Option is a self-paced, online, competency-based education program through which you can earn a bachelor's degree or certificates from a University of Wisconsin institution.
As a student in a UW Flexible Option program, your progress is based on your ability to show that you have mastered the content – not based on how much time you spend in class. You may have gained that knowledge through prior coursework, military training, on-the-job training, or from within our program. By emphasizing what you know rather than how much time you spend learning, this flexible format lets you advance toward a UW degree or certificate at a pace you control.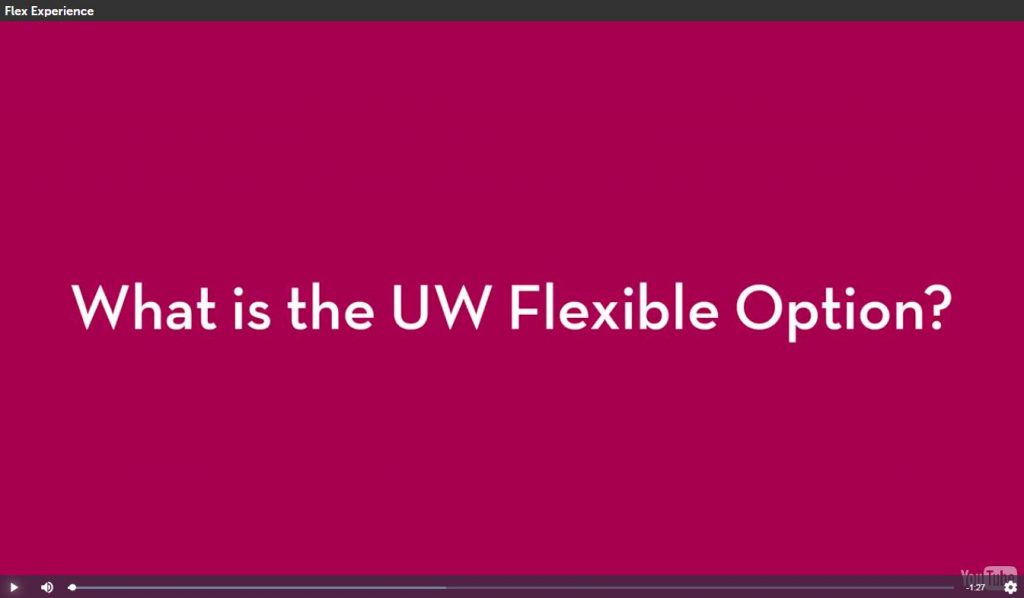 Competency-based education (CBE) is an academic format which assesses you on your level of mastery in specific content areas, rather than by time you spend in class. Once you demonstrate mastery of the curriculum on your own timeline, you receive credit – whether it takes you 3 weeks or 3 months.
Here are a few more key differences between UW Flexible Option's CBE programming and traditional higher education:
Flexibility – Programs in the UW Flexible Option are self-paced, which means there are no live log-on requirements or set test dates. You choose when you complete your coursework and where – whether it be at home, the coffee shop, or the breakroom.

Independence – The UW Flexible Option's structure is focused on you. You demonstrate mastery of the skills you've mastered on your own schedule, without having to worry about how fast or slow other students are progressing.

Affordability- With a

fixed rate tuition model

you can control the costs of your degree. Check out the program page of the degree or certificate you're interested to learn more about what financial assistance may be available.

Personalized Support – While you'll be in control of your education, you won't have to go it alone.  You'll have access to highly qualified

Academic Support Coaches

who will be there to guide you through your program, help you set priorities to meet your goals, and provide encouragement along the way.  
Call an enrollment adviser to find out more about the UW Flexible Option and get started today!
Yes!  The degree or certificate you receive will come from a UW institution you know and trust. You will leave your program with a genuine UW-Milwaukee, UW-Parkside, or UW-Madison Division of Continuing Studies credential.
Yes. Several CBE programs are offered by reputable institutions, and many, including those offered by the UW Flexible Option, are accredited.  You can learn more about CBE by visiting the Competency-Based Education Network, a nationally recognized organization in the field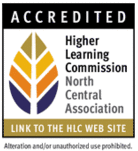 All credit-bearing UW Flexible Option programs are accredited by the Higher Learning Commission of the North Central Association of Colleges & Schools. In addition, the UW Flexible Option Bachelor of Science in Nursing program is accredited by the Commission on Collegiate Nursing Education (CCNE) and the Bachelor of Science in Business Administration program is accredited by AACSB International
Yes! Each program is designed by UW System faculty members, the same faculty who teach traditional courses, with input by industry experts. That means you'll master skills you will actually need in your field.
Compared to traditional programs, faculty interaction in UW Flexible Option is likely different than you may be used to. Since our programs are fully self-paced and you're moving through the program on your own time and schedule, there are no live lectures or faculty-led sessions that tie you to a specific class time. But, you'll still have contact with the instructors in your program: this might be through regular check-ins you have with the instructors, feedback received on assessments you've submitted, or simply reaching out to an instructor for guidance on academic questions.  In addition, you'll have access to your Academic Success Coach who will be there to help guide you to resources that will help you achieve your goals.
UW Flexible Option programs are self-paced. That means there is no specified length of time required by each program. Based on your unique needs, transferable credit, schedule, or life experience, you may finish your program as fast or as slow as you'd like. In fact, we've had some students complete their program in less than a year, and others have chosen to take longer to complete their program, while balancing work, family, and school.
Assessments—the tests, projects, and other activities used to measure your knowledge—are developed by UW faculty, who draw upon the latest standards in business and industry, to best capture the competencies that define UW degrees and certificates. Some assessments are based on tests and papers used in traditional classroom formats. Others require a portfolio assessment. Still others require observations of clinical demonstrations and other experiences. Once you pass an assessment, you will be able to directly and reliably demonstrate what you know to employers and others seeking your skills.
Projects require students to apply their knowledge and skills to real-world business scenarios in a meaningful way. For example, if a project consists of creating a marketing plan for a new beverage, to successfully complete that project, students will have to demonstrate mastery in market research, design print and social media, budget development, and product presentation. As students advance through the business degree curriculum, projects are designed to progressively develop their skills from beginning stages to advanced levels of expertise.
All of your academic coursework occurs online – you'll never need to come to campus (unless you want to come walk in your graduation ceremony!).  Some programs, though, include hands-on or clinical assessments and experiences that require interactions in a workplace or clinical setting. Contact an enrollment adviser with questions specific to your program of interest.
Competencies are skills and abilities—the things you need to know and be able to do.  In the UW Flexible Option, you complete your program by enrolling in 'competency sets' (a bundled set of competencies that together define the skills, abilities, and knowledge of a particular subject area) rather than traditional courses.
In UW Flexible Option, the period of time that you complete coursework in is called a 'subscription period' instead of a semester. For all our credit-bearing programs, a subscription period is 3 months long. Subscription periods start the beginning of every month to allow you to get started on your degree whenever is most convenient to you.
Admission
A $50 nonrefundable application fee is required. The fee is not required if any of the following are true:
The most recent campus where you were enrolled as a degree-seeking student was at a 2-year UW Branch Campus, or UW Colleges Online,
You were previously enrolled as a degree-seeking student at the same campus to which you are now applying, or,
You are applying to a UW Flexible Option certificate (non-degree) program.
UW Flexible Option is only admitting domestic students at this time.  A domestic student is someone who is either a U.S. Citizen, a U.S. Permanent Resident, or holds Refugee, Asylee, or Jay Treaty status.  All applicants whose native language is not English are required to submit Test of English as a Foreign Language (TOEFL) scores or similar proof of English proficiency.
Your application is valid for one calendar year after your date of submission. Applicants interested in continuing the application process after a year will need to submit a new application and pay a new application fee.
Official transcripts should be sent directly from each school attended. Official transcripts can either be mailed or sent electronically through a secure document sending service (such as Parchment, Credentials, or the National Student Clearinghouse).
If sending by mail, please send to:
UW Flexible Option Enrollment Team
UW Extended Campus
5602 Research Park Blvd., Suite 303
Madison, WI 53719
Transcripts sent by email as an attachment or by fax will not be accepted as official.
Your official high school transcript is required unless you have earned a Bachelor's degree from an accredited institution.
If you would like to change your desired Flex start date, please complete a brief Term Change Request form.
We are committed to doing all we can to set the stage for student success and make sure students are well-prepared for a competency-based education program like UW Flexible Option.  For that reason, all students must participate in an online orientation program.  Orientation, Part 1 must be completed as part of the application process. A link to this self-paced, online orientation module will be emailed to you after you have submitted your application for admission.  Then, upon admission, a link to a second required orientation module, Orientation, Part 2, will be sent.
You can apply up to 5 months before any given subscription period, (which begin every month). Your application and required materials must be received one month in advance of your desired start date.
Example:
You would like to begin your UW Flexible Option program in May 2018. You may apply for admission as early as January 1, 2018, but no later than April 1, 2018. All of your application materials must be received by the end of the day on April 1.
We encourage you to apply early to ensure all documents are received by the deadline.
UW placement tests are designed to determine your current math skills and to place you into the appropriate college-level math competency set.
You will be asked to take a placement test if:
You have not attended college, or
You have previously attended college, but have not completed any transferrable college-level math courses.
Once we have received your required application materials, you will be notified if a math placement test is required. If you are required to take a placement test, you will be sent detailed information about scheduling the exam. You can either complete the placement test through a proctored exam at an approved location near you or you may choose to go through virtual learning and preparation modules and take a proctored exam from home. Our Admissions Office can provide you with further detail on both options should you need to complete the math placement test.
It is important to complete the placement test as soon as possible. As with other required application materials, we must receive placement test results no later than the first day of the month prior to your desired subscription start date (e.g. July 1st for an intended August start). Should your results arrive later than the deadline for your desired start date we will consider you for the next available start term.
Once the Admissions Office receives your scores, we will send you an email with your placement level and any additional actions needed to complete the admissions process.
Results from the ACT or SAT are required for students under the age of 22 who have never attended college.
Students aged 22 or older who completed either test are encouraged, but not required, to send in your scores as they may strengthen your application.
Please contact ACT (use school code 6700) or SAT testing services directly and have scores sent to:
UW Flexible Option Enrollment Team
UW Extended Campus
5602 Research Park Blvd., Suite 303
Madison, WI 53719
Once the Admissions Office receives all of your required application materials (including placement test results, if required), they will email you an admission decision within 3 to 5 business days.
Your Enrollment Adviser will guide you through the application process and inform you of what documents you will need to provide, such as transcripts from other schools. To get started on your application, please go to apply.wisconsin.edu, and choose the UW Flexible Option!
Note:  There is a separate registration process for the Substance Use Disorders Counselor Certificate program. Click here for details.
The admissions staff will consider your academic history and readiness, your intended program, relevant work experience, and your potential for success when making an admissions decision. Please visit the admissions page for your intended program to learn more about the specific requirements, or contact an Enrollment Adviser at 608-262-2011 or flex@uwex.edu.
Credit Transfer
You may be able to earn credit for satisfactory completion of Advanced Placement (AP) or College-Level Examination Placement (CLEP). Determination of how your scores will transfer will occur upon admission.
In order to learn more about credit-by-exam opportunities and how your exams might transfer, please visit our resource page on transferring non-coursework credit.
Transcript evaluations are performed after admission. Once the transcript evaluation is complete, your Academic Success Coach will help you develop a personalized Academic Plan of Study that outlines the remaining competency sets or projects that you will need to complete to earn your degree or certificate through the UW Flexible Option.
As with credits earned through traditional degree programs, the school receiving your credits will decide which credits will transfer and/or count toward degree requirements. In any situation where you would like to transfer credits from one university to another, it is important to check with the school to which you want to transfer first for guidance about degree requirements and transfer policies.
The total number of credits required to earn your degree depends on your academic program's requirements and any transfer credit earned from colleges you have previously attended. Please check out your program of interest to learn more about the required credits and transfer policies.
Work experience does not count for credit, however, you might find that the knowledge gained through your work experiences is a foundation you can build off of to complete assessments. As soon as you pass an assessment or successfully complete a project, you can move on to the next competency and assessment required for your degree or certificate. Since our programs are self-paced, the foundation you have from you work experience can accelerate your progress in your program.
Prior coursework is valued, and we will make every effort to award as much credit as possible. Your prior credits will be assessed for transfer upon admission, and is awarded if it is similar in level and content to coursework within your chosen UW Flexible Option program.
Please note that some course credits may become outdated as technology, teaching methods, and research change. If it has been several years since you completed a course, you may be asked to refresh your knowledge of that subject area to prepare for future study.
Tuition
There are no additional student segregated fees with the UW Flexible Option, though you may need to purchase textbooks or some additional learning resources depending on your chosen program.
The number of credits you transfer in, and the number of competency sets you complete at a time, will affect your total program cost. Tuition is $2,250, which is an all-you-can-learn option covering an unlimited amount of competency sets that you can complete in a subscription period. Some of our programs also offer a slower-paced, Single Option, which is $900 for a maximum of one competency set in a subscription period.
| Subscription Options | Term Length | Tuition | Competency set your can complete |
| --- | --- | --- | --- |
| All-You-Can-Learn | 3 months | $2,250 | 2 or more |
| Single Competency Set* | 3 months | $900 | 1 |
Check out the tuition page on your program of interest to learn more!
*The BS in Business Administration and the Substance Use Disorders Counseling Certificate do not offer a Single Set option at this time.