Overview
Health science is the application of science to health, including the study of medicine, nutrition, and other health-related topics and how they affect humans.
An aging workforce, new technologies, and growing demand for experienced healthcare professionals make now the perfect time to enroll in the Bachelor of Science in Biomedical Sciences: Health Sciences submajor degree completion program from the UW-Milwaukee College of Health Sciences.
Now available in the self-paced, competency-based UW Flexible Option format, this degree completion program offers students the opportunity to build on an associate level education and develop or strengthen skills in critical thinking, problem solving, information literacy, informatics, management, and education in the health professions. Graduates will be prepared to assume a wide range of roles within both clinical and non-clinical settings such as hospitals and other patient care facilities, government organizations, or insurance companies. This program may also provide the foundation required for entry into advanced degree programs such as physical or occupational therapy, physician's assistance, and more.
This program is designed for returning adult learners with an associate degree. There is no time like the present to expand your career opportunities by earning your Bachelor's degree in Biomedical Sciences: Health Sciences submajor. Stay competitive in today's job market and improve your opportunity for career advancement or career change. Best of all, your associate's degree has already earned you 50% of the required bachelor's degree credits.
Career Outlook
Healthcare support occupations, healthcare practitioners, and technical occupations are expected to generate 2.3 million new jobs through 2024—faster employment growth than any other industry, according to the Bureau of Labor Statistics. This means credentialed health professionals will be especially well positioned for career advancement in a diverse range of career opportunities, including work in both clinical and non-clinical settings such as hospitals, general care facilities, public and private agencies, nonprofits, or other health-related organizations.
Career Examples
Client/Patient Advocate
Pharmaceutical Sales
Public Health Administrator
Wellness Coordinator
Social Services Case Manager
Lobbyist/Healthcare Advocate
Medical Equipment Sales
Claims Reviewer
Graduate Programs *
Speech Language Pathology
Pharmacy
Dentistry
Prosthetics-Orthotics
Health Informatics
Health Education
Occupational Therapy
Audiology
*Note: consult with advisers and professional graduate programs regarding specific program pre-requisites.
Who Should Apply
The UW Flexible Option is especially designed for self-motivated, adult students who want to leverage their previous schooling, work skills, and knowledge to advance toward a degree. Professionals holding an associate degree will be awarded 60 credits toward the 120-credit degree completion minimum.
Students have control over their learning schedule, allowing them to balance their unique work and family responsibilities with their educational goals. The online format of UW Flexible Option coupled with the elimination of set class schedules, gives students the freedom to learn when and where they choose.
This self-paced program is ideal for:
Motivated, disciplined self-starters who can work independently.
Those who recognize the value of a University of Wisconsin degree.
About UW-Milwaukee College of Health Sciences
The UW-Milwaukee College of Health Sciences is widely recognized by employers for offering the largest number of health-related degree programs in Wisconsin, supplying quality graduates for high-demand positions. The research conducted by  the UWM College of Health Sciences faculty and staff encompasses groundbreaking urban and population studies, biomedical research, advances in movement science, rehabilitation research and development, applied clinical technologies, and disease-prevention approaches. These activities are supported by the resources of four academic centers and 13 state-of-the-art laboratories within the college, and millions of dollars in funds from institutions such as the National Institutes of Health, the National Science Foundation, the Centers for Disease Control and Prevention, and the U.S. Department of Education.
Accreditation
University of Wisconsin-Milwaukee is accredited by the Higher Learning Commission of the North Central Association of Colleges & Schools. 
Curriculum
This program is a degree completion program. Candidates for the Bachelor of Science in Biomedical Sciences: Health Sciences degree must have an earned associate degree (for which a minimum of 60 credits will be awarded towards the Health Sciences degree) OR earned at least 60 transferable credits to UW-Milwaukee (for which equivalent course credit will be applied toward the Health Sciences degree after transcripts are reviewed).
This degree completion program is 120 credits. Your remaining credits include the General Education Requirements necessary for a UWM bachelor's degree, any elective requirements, and the courses in your major that define this program:
Lower Division Courswork
BMS 205x-Introduction to Diagnostic Medicine
Imparts knowledge and application of the mechanisms, procedures, physiological basis, decision-making, and evidence based protocols used to diagnose health and disease.
BMS 232x-Introduction to Nutrition (elective)
Fundamentals of human nutrition, functions and requirements of nutrients, nutritional needs throughout the life cycle. (This course is an elective).
BMS 245x-Client Diversity in Health Sciences: An Interdisciplinary Approach
Explores cultural self-awareness, rules, behaviors, and biases of diverse societies, as well as the interprofessional application of effective service delivery in the health professions to culturally diverse individuals and families.
BMS 260x-Introduction to Complementary and Alternative Medicine
Educational foundation regarding the broad use of complementary and alternative practices available to consumers and health professionals and evidence based assessment of predominant complementary and alternative health care traditions and therapies.
ENG 206x-Technical Writing
Offers practice assessing communication situations using core rhetorical principles of audience, purpose, and context, and, after study and practice, allows students to demonstrate their competency in producing key verbal and written genres such as email, memos, letters, presentations, and reports.
HCA 220x-Leading Healthcare Professionals
Explores effective healthcare leadership of self, others, and groups in complex healthcare settings. Emphasizes the leader understanding his or her own temperament and values in a healthcare context.
HS 102x-Healthcare Delivery in the United States
Introduces health care delivery focusing on consumers, providers, organization, financing, quality and utilization of services, health planning, and political and governmental impacts.
CGS MAT 215x – Elementary Statistics
The primary aim of the competency set is a basic understanding and use of statistical concepts and methods to facilitate study and research in other disciplines. Includes measures of central tendency, measures of variability, grouped data, the normal distribution, central limit theorem, hypothesis testing, estimation, T-distribution and chi square test.
TherRec 202x-Disability, Society, and the Person
Introduction to the attitudes and knowledge required for the appropriate and quality interactions involving individuals with disabilities. Overview of the psychological and social impact of disability.
Upper Division Coursework
HS 311x-Law for Healthcare Consumers and Professionals
Explores law and ethics as they relate to health care. Topics include ethical decisions, contracts, liability, malpractice, informed consent, HIPAA, litigation, healthcare technology, and trial proceedings.
KIN 400x-Ethics in the Fitness and Health Professions
Exploration of morality and ethics and their importance in the allied health professions.
BMS 434x-Professional Development in the Health Professions
Development of the knowledge, skills, and attitudes needed to provide quality patient and client care through contributions to health related professions  and participation in service learning related to professional practice.
BMS 433x-Teamwork in the Health Professions
Knowledge, skill, and attitude development in the values and ethics, roles and responsibilities, communication, and teams and teamwork of interprofessional practice in healthcare.
TherRec 303x-Inclusive Disability
Study of concepts and practices related to the delivery of community programs for individuals with disabilities.
BMS 314x-Human Pathophysiology I
Study of human pathological processes.  Emphasis on interrelationships among organ systems and deviations from homeostasis. Students will demonstrate a detailed knowledge of pathophysiology, including the etiology, pathogenesis, pathology, pathophysiology, clinical features, treatment and prognosis of commonly occurring diseases.
---
Program Certificates
Depending on your unique academic plan of study, you may be able to supplement your bachelor's degree with a UW-Milwaukee certificate as part of your enrollment in the UW Flexible Option. You may choose to earn one (or more) of the following certificates. Please consult with your Success Coach to learn more about how these programs might fit in your academic plan.
Tuition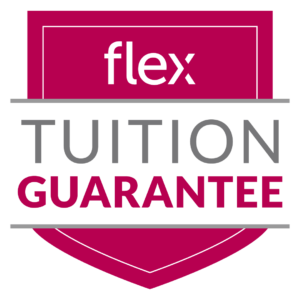 The UW Flexible Option offers working adults – like you – a more affordable way to finish a degree. Your coursework takes place in subscription periods – rather than semesters. These subscription periods start every single month, and are approximately 12 weeks long.
Instead of paying based on your course or credit load, you choose between two flat rate tuition plans. Our unique subscription period structure and flat-rate tuition model means you are in control of both your schedule and your cost.
All-You-Can-Learn Option: Choosing this option allows you to enroll in as many courses as you have time for within the subscription period for a flat tuition rate of $2,250. You can add additional courses in your subscription period if you finish others early.
Single Course Option: You may also decide you would like to focus on just one course at a time. The tuition for this option is $1,125. In this option, you are not eligible to add additional courses during your subscription period if you finish the first one early. In this case, you must wait until your next subscription period to add additional courses.
| | | |
| --- | --- | --- |
| Subscription Option | Courses you can take | Tuition |
| All-You-Can-Learn | 2 or more | $2,250 |
| Single Option | 1 | $1,125 |
You can switch back and forth between these tuition options with each new subscription period. For example, perhaps over the summer you do the Single Course option because your family is home on summer break, but once the kids go back to school in the fall you switch to the All-You-Can-Learn option.
Financial Aid is available for this program.
Are there any additional fees? There are no segregated fees with this program, which saves you hundreds of dollars per credit hour. However, your tuition does not include the cost of textbooks or other special materials that may be required for individual courses. 
Admission
Finishing your degree is closer than you think! Schedule an advising call at 608-262-2011 or contact us at flex@uwex.edu.
Minimum Academic Requirements
Candidates for the Bachelor of Science in Biomedical Sciences: Health Sciences degree must have an earned Associate Degree (for which a minimum of 60 credits will be awarded towards the Health Sciences degree) OR earned 60 transferable credits to UW-Milwaukee (for which equivalent course credit will be applied toward the Health Sciences degree after transcripts are reviewed).
NOTE: Prior college transcripts from which you may transfer credit must be accredited by a regional or national accrediting organization recognized by the CHEA (Council for Higher Education Accreditation).
How to Apply
You may apply up to five months in advance of your desired start date. See Steps to Apply.
If previously enrolled in Flex, please review our returning student admissions process.
Transfer Credit Evaluations
Transfer credit is awarded for college-level coursework completed at regionally accredited institutions.  See Transfer Credit Evaluations for more information.
Learn more about how credit by exam and military coursework may apply towards your degree.
Still have questions?  Check out our Admission FAQ page.
---