Overview
Earn the BSN you need to stay competitive in a changing workplace.
In February 2015, a study published in Nursing Economics found that the percentage of BSN-prepared nurses is increasing while the employment of associate degree nurses is decreasing. Soon, a BSN will be the standard for all nurses who desire job security and opportunities for career advancement.
Here is a convenient way to earn your bachelor of science in nursing degree online—at your pace, on your schedule, using knowledge you already have.
Now offered in the self-paced, competency-based UW Flexible Option format, the UW-Milwaukee College of Nursing RN to BSN program is for nurses with associate degrees who would like to earn a baccalaureate degree while still having time for work and family.
(For more about the challenges and opportunities facing nurses today, see our blog post, "Wall Street Journal Reports on Nurses' Struggle as More Hospitals Require BSNs.")
Who Should Apply
The UW Flexible Option is especially designed for self-motivated nontraditional students who want their previous schooling, work skills, and prior knowledge to apply toward degrees or certificates. The competency-based and self-paced format of the UW Flexible Option fits the schedules of students who must balance work and family responsibilities with educational goals. Because most UW Flexible Option competencies and assessments are delivered online, students have the opportunity to learn when and where they choose.
This self-paced online nursing degree is ideal for students who:
Hold an unencumbered RN license in Wisconsin, Illinois, Indiana, or Iowa
Have a cumulative GPA of 2.5 or higher and graduated from an associate-degree program in nursing or diploma program in nursing
Have work experience as a registered nurse
Are motivated, disciplined self-starters who can work independently
Desire the prestige and value of a University of Wisconsin degree
About UW-Milwaukee College of Nursing
The UWM College of Nursing is in the top 15% of nursing programs in the nation (according to U.S. News & World Report graduate rankings). UWM faculty lead the nation in cutting-edge research in a some areas including self-management, geriatric health, global health, healthcare delivery and development and community-engaged health research. As the largest nursing program in Wisconsin, the college is also exceptionally proud of its more than 9,000 alumni who provide quality evidence-based care, inspiring education, exceptional research, and administrative leadership to improve healthcare nationally and across the globe.
Accreditation
The baccalaureate degree program in nursing at UW-Milwaukee is accredited by the Commission on Collegiate Nursing Education (http://www.ccneaccreditation.org). The program is also approved by the State of Wisconsin Board of Nursing.
Curriculum
RN to BSN Completion Curriculum
To earn this degree, students must fulfill the general education requirements necessary for a UWM bachelor's degree, elective requirements, and the unique competency sets that define this online nursing degree.
Total degree credits required: 124
After review of your prior college transcripts, you will be given a minimum of 60 credits for your general education and nursing courses earned in your associate degree in nursing (ADN) or nursing diploma program.
A program plan will be developed just for you in which you will know what courses you will have to complete in the liberal arts and in nursing. You can complete these courses through competency assessment, online or face to face.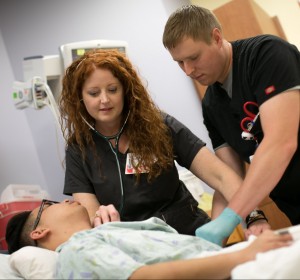 Non-nursing
English Composition II: 3 credits
Humanities: 3-6 credits
Arts: 0-3 credits
History: 3 credits
Social Science: 9 credits
Sociology
Psych 101
Growth & Development
Natural/Biological Sciences: 21 credits
Chemistry
Biochemistry (or alternate science course)
Anatomy & Physiology I and II
Microbiology
Nutrition
Electives: 19-25 credits
Competencies
Cultural Diversity (may or may not apply)
Foreign Language (may or may not apply)
More information on meeting the general education requirements of the degree can be found here.
NURSING COURSES FROM YOUR ASSOCIATE DEGREE PROGRAM: 60 CREDITS
Advanced Nursing Courses (with a grade of C or higher)
NURS 407x – Foundations of Professional Nursing Practice (3 credits)
Philosophical perspectives, theories, and standards are applied to the practice of professional nursing. Factors influencing nursing/healthcare delivery are analyzed. Professional communication skills are enhanced. Is a writing emphasis course.
NURS 441x – Chronic Care Management (3 credits)
Exploration of interaction of biological, psychological, social, and environmental factors important to understanding management of chronic conditions at the individual, family, community, and societal levels.
NURS 446x – Research and Evidence Based Practice (3 credits)
This course introduces the importance of research to improve clinical practice, strategies to evaluate the quality of research and evidence, and increase integration of research into practice.
NURS 447x – Leadership and Management (3 credits)
Examines nursing leadership and management using relevant theories and concepts. Analyze decision-making in relation to communication, delegation, supervision and group process.
NURS 453x – Information Management and Healthcare Technology (3 credits)
Utilize computer and information/decision science to support quality and safety in healthcare. Explore informatics issues and examine nursing's role in healthcare technology. Opportunities to use and master various healthcare technologies and healthcare data will be given.
NURS 454x – Community Health Nursing (3 credits)
Nursing care of populations and communities to facilitate optimal health outcomes.
NURS 445x – Capstone/Practicum for Registered Nurses (3 credits)
A clinical experience applying core competencies to clinical practice.
Advanced Nursing Electives (minimum of 9 credits; with a grade of C or higher)
NURS 316x – Palliative Care (3 credits)
This set focuses on the knowledge and skills necessary to provide professional competent care to those with life limiting conditions; develop system thinking skills that offer enhancements to quality of life; and demonstrates a leadership role in facilitating learning for those who are involved in life-limiting illness care.
NURS 317x – Health Assessment (3 credits)
A focus on the knowledge and skills necessary to perform a complete health assessment of individuals of all ages and cultures. Emphasis is on extended knowledge as well as the cultural and holistic perspectives of health assessment as an essential component of nursing practice.
NURS 365x – Global Health: Ethics & Human Rights (3 credits)
Examines the broad field of global health from an ethical and human rights perspective.  Students will be expected to analyze the role of nursing in addressing global health inequities.
NURS 375x- Genetics and Genomics for Health Professionals (3 credits)
This set emphasizes the relationship between the science of genetics, the study of genomes and application of these concepts by healthcare providers in the screening, assessment, diagnosis, treatment and evaluation of patients.
NURS 448x – Mental Health Nursing Across the Care Continuum (3 credits)
Focus on the knowledge and skills necessary for providing professional nursing care to individuals, groups, and families affected by mental illness in any setting.
---
Residency Requirement
Transfer students must complete at least 30 credits with UWM, even if this brings the total number of earned credits beyond the total number of credits required for the degree. For example, if you enter a UW Flexible Option program with 100 transferable credits, you must complete 30 credits with UWM to receive the bachelor's degree (even though normally the degree requires 124 credits). Residency in this case does not mean a student has to attend in-person or live in Wisconsin, just complete the required number of credits at UW-Milwaukee.
Tuition
The UW Flexible Option offers working adults a more affordable way to earn a UW degree or certificate. Instead of paying by course or by credit, UW Flex lets you pay a flat rate for a three-month subscription period. You won't spend valuable time or money sitting through courses you don't need. If you already know the material, you may be able to pass assessments more quickly, and potentially accelerate your time to graduation. 
During your subscription period, you are able to access learning materials, complete assessments, and receive academic support. Subscription periods begin on the second day of every month. You can choose from two subscription options, each with a different tuition, depending on the number of competency sets you wish to attempt during the subscription period. Not sure what a competency set is?  Check out our sample competency set to see one for yourself.
All-You-Can-Learn Option: Choosing this option allows you to enroll in two or more competency (skill) sets. You may enroll in as many competency sets as you can successfully master within a three-month period for a flat tuition rate of $2,250. This option is ideal for motivated learners who would like to earn their degrees or certificates more quickly.
Single Competency Set Option: If you would like to study at a slower pace during a three-month subscription period, you may enroll in a single competency set. As with the All-You-Can-Learn Option, you must successfully demonstrate mastery of each competency in the set through a series of assessments. The tuition for this "one-set-per-subscription-period" model is $900.  Note:  After the tenth day of the subscription period, students who are enrolled in the Single Competency Set level are not eligible to add additional competency sets during their subscription period.  Such students must wait until a subsequent subscription period to add additional competency sets.
| Subscription options | Term length | Tuition | Competency sets you can complete |
| --- | --- | --- | --- |
| All-You-Can-Learn | 3 months | $2,250 | 2 or more |
| Single Competency Set | 3 months | $900 | 1 |
Additional Fees: Tuition covers assessments and mentoring, but excludes the cost of books and other special materials that may be required for your program.
Admission
Finishing your BSN is closer than you think! The UW Flexible Option admissions process was designed with you in mind.
Requirements
Candidates for the Bachelor of Science in Nursing program must have:
Associate Degree in Nursing (ADN) or nursing diploma
Active, unencumbered state RN license
Cumulative GPA of 2.5 or higher from prior coursework
Have work experience as a nurse
Please also note that, while there are no on-campus requirements in this program, students must find their own clinical project and a qualified preceptor in their own workplace or another setting in their community for their capstone course.
Applying for Admission
You will be considered for admission after completing the following action items:
Schedule an advising call with an Enrollment Adviser. You can make an appointment at 608-262-2011 or flex@uwex.edu.
Submit your e-application and the $50 application fee through apply.wisconsin.edu.*
Send in your official transcripts from all colleges attended (including transfer credit), and from your high school or equivalent of graduation.**
UW Flexible Option Admissions
5602 Research Park Blvd., Suite 303
Madison, WI 53719
Email a copy of your active state-issued nursing license to admissions@uwex.edu. Wisconsin or Illinois-licensed nurses may skip this step.
Complete transferable algebra coursework. See the Placement Testing section below for details.
Submit your Holistic Student Profile survey and Orientation Part 1. Your personalized links will be sent to you after we receive your application.
Our admission process considers many factors when assessing your application for admission to a UW Flexible Option program. Your high school records, strength of prior college coursework, rigor of curriculum and academic readiness, test scores, grade point average, academic goals, relevant work experience, and your potential for success will all be considered. Please contact us at 608-262-2011 or via email at flex@uwex.edu  to discuss your readiness for this program.
UW Flexible Option is only admitting domestic students at this time.  A domestic student is someone who is either a U.S. Citizen, a U.S. Permanent Resident, or holds Refugee, Asylee, or Jay Treaty status.  All applicants whose native language is not English are required to submit Test of English as a Foreign Language (TOEFL) scores or similar proof of English proficiency.
Students Returning to UW Flexible Option
If you were previously enrolled in the UW Flexible Option and now wish to return after a period of time away, discover your next steps.
Placement Tests
Placement tests are designed to measure prerequisite skills that help us place you into the correct college-level math competency sets.
You will be asked to take a placement test if you have not completed a transferable algebra course.
During the application process for UW Flexible Option, you will be notified if a placement test is required. If you are required to take a test, an Admissions Specialist will send you scheduling instructions. A variety of testing options are available to meet your needs.
---
Evaluation of Previously Completed Post-Secondary Coursework
Transcript Evaluation
Transfer credit is awarded for college-level coursework completed at regionally and nationally accredited institutions. The Transfer Equivalency Database (TED) is designed to show how the University of Wisconsin-Milwaukee will award credit for transferable courses both within and outside of the UW System.
AP, CLEP, IB and Military Credits
College credit may be awarded for Advanced Placement (AP), College Level Examination Program (CLEP), and International Baccalaureate (IB) coursework and scores. Visit UW-Milwaukee's Transferring Non-Coursework Credit website for equivalencies and details.
If you have military experience, please submit an official copy of your Joint Services Transcript or Community College of the Air Force transcript to our office. Additional information can be found on the UW-Milwaukee Military Education Benefits Office website.
Only official score reports and/or transcripts will be considered for transfer credit.  Score reports and/or transcripts should be sent to UW Flexible Option Admissions, 5602 Research Park Blvd. Suite 303, Madison, WI 53719.
Foreign Study Transfer Equivalency
If you completed college coursework at a foreign institution, it may be eligible for transfer credit. You will be asked to send your transcripts through an evaluation process with a foreign credential service, such as Educational Credential Evaluators or World Education Services, to determine U.S. credit equivalents.
Results of Your Transcript Review
Once you have been admitted and your transcripts have been reviewed for transfer credit, you will work with your Academic Success Coach (ASC) to develop an academic plan of study so you have a clear idea of the requirements you have left to finish your program!
---
Still have questions about the admission process?
Check out our Admission FAQ page.
* You are not required to pay the $50 application fee if you were previously enrolled in a degree program at UW-Milwaukee, or if your most recent degree program was through one of the 2-year UW Colleges campuses or UW Colleges Online.
 ** You are not required to submit a high school transcript if you have received a Bachelor's degree from an accredited institution.