Overview
Earn the BSN you need to stay competitive in a changing workplace.
You're a busy nurse who is balancing your professional and personal life. You've thought about earning your BSN to stay competitive at work, but have struggled to find a respected online nursing degree program that fits your life rather than forcing you to change your life for the degree. 
Until now. The competency-based, UW-Milwaukee College of Nursing RN to BSN—offered in the UW Flexible Option format—is designed to help you achieve your goals on your schedule, on your budget, while building on your existing nursing skills. 
The features of this award-winning, CCNE accredited, online nursing degree-completion program put you in control of your education:
100% online coursework, no need to come to campus

Generous transfer credit policy – ADN holders can expect a

minimum

of 60 transfer credits

Self-paced learning where you move as fast or as slow as you need 

No live class times – you'll complete your coursework whenever it's convenient 

Personalized advising by academic success coaches and supportive faculty who understand nursing practice

An affordable flat rate tuition, with no segregated fees 

Get started any month of the year
You'll study an evidence-based curriculum that focuses on how you can improve patient outcomes – like our graduate Tiffany. She was able to reduce C.diff infections on her unit by 86% during her final capstone project. 
Who Should Apply?
The UW Flexible Option has helped many nurses—like you—achieve their goal of earning a bachelor's degree. The innovative features of our competency-based learning honor your existing experience, while giving you the tools you need to master the content that's new to you.
The learning environment in the UW Flexible Option is unlike anything you've experienced in prior education. This online RN to BSN degree is a great fit for students who: 
Are motivated, self-directed learners

Prefer independent learning (there's no group work in this program!)

Can create, and manage, their own deadlines for coursework
Sound like a good fit for you? Check out the coursework, tuition, and admissions above.
About UW-Milwaukee College of Nursing
The UWM College of Nursing is in the top 15% of nursing programs in the nation (according to U.S. News & World Report graduate rankings). UWM faculty lead the nation in cutting-edge research in areas including self-management, geriatric health, global health, healthcare delivery and development and community-engaged health research. The College of Nursing is the largest nursing program in Wisconsin, and is exceptionally proud of its more than 9,000 alumni.  These alumni provide quality evidence-based care, inspiring education, exceptional research, and administrative leadership to improve healthcare nationally and across the globe.
---
Accreditation
This online nursing degree program at UW-Milwaukee is regionally accredited by the Higher Learning Commission, and the Commission on Collegiate Nursing Education. The State of Wisconsin Board of Nursing has approved this program as well.
Curriculum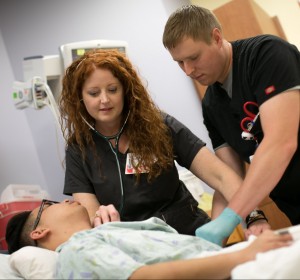 This online nursing degree builds on the skills and knowledge of your ADN curriculum, focusing on developing leadership, reflective and evidence-based practice, and systems-thinking skills. In this competency-based program, everything you learn and master is tied directly to program outcomes. 
The courses you will take are developed and taught by UW-Milwaukee College of Nursing faculty. Our faculty are all experienced nurses who understand the clinical practice you face every day. 
You will be given a minimum of 60 credits for your general education and nursing courses earned in your ADN (or nursing diploma program). Plus, we'll review your transcripts for all additional transfer credit from coursework you may have done outside your ADN. 
To earn this 124-credit RN to BSN degree, you'll need to complete 64 credits (approximately 21 courses) – or less with additional transfer credit. You'll have a personalized learning plan, as well as an Academic Success Coach, to guide you along your educational journey.
Advanced Nursing Courses (21 Credits)
NURS 407x – Foundations of Professional Nursing Practice (3 credits)
Philosophical perspectives, theories, and standards are applied to the practice of professional nursing. Factors influencing nursing/healthcare delivery are analyzed. Professional communication skills are enhanced. Is a writing emphasis course.
NURS 441x – Chronic Care Management (3 credits)
Exploration of interaction of biological, psychological, social, and environmental factors important to understanding management of chronic conditions at the individual, family, community, and societal levels.
NURS 446x – Research and Evidence Based Practice (3 credits)
This course introduces the importance of research to improve clinical practice, strategies to evaluate the quality of research and evidence, and increase integration of research into practice.
NURS 447x – Leadership and Management (3 credits)
Examines nursing leadership and management using relevant theories and concepts. Analyze decision-making in relation to communication, delegation, supervision and group process.
NURS 453x – Information Management and Healthcare Technology (3 credits)
Utilize computer and information/decision science to support quality and safety in healthcare. Explore informatics issues and examine nursing's role in healthcare technology. Opportunities to use and master various healthcare technologies and healthcare data will be given.
NURS 454x – Community Health Nursing (3 credits)
Nursing care of populations and communities to facilitate optimal health outcomes.
NURS 445x – Capstone/Practicum for Registered Nurses (3 credits)
A clinical experience applying core competencies to clinical practice.
---
Advanced Nursing Electives (minimum of 9 credits)
NURS 316x – Palliative Care (3 credits)
This set focuses on the knowledge and skills necessary to provide professional competent care to those with life limiting conditions; develop system thinking skills that offer enhancements to quality of life; and demonstrates a leadership role in facilitating learning for those who are involved in life-limiting illness care.
NURS 317x – Health Assessment (3 credits)
A focus on the knowledge and skills necessary to perform a complete health assessment of individuals of all ages and cultures. Emphasis is on extended knowledge as well as the cultural and holistic perspectives of health assessment as an essential component of nursing practice.
NURS 365x – Global Health: Ethics & Human Rights (3 credits)
Examines the broad field of global health from an ethical and human rights perspective.  Students will be expected to analyze the role of nursing in addressing global health inequities.
NURS 375x – Genetics and Genomics for Health Professionals (3 credits)
This set emphasizes the relationship between the science of genetics, the study of genomes and application of these concepts by healthcare providers in the screening, assessment, diagnosis, treatment and evaluation of patients.
NURS 448x – Mental Health Nursing Across the Care Continuum (3 credits)
Focus on the knowledge and skills necessary for providing professional nursing care to individuals, groups, and families affected by mental illness in any setting.
---
General Education & Elective Courses
All bachelor's degree seeking students at UW-Milwaukee must satisfy these general education and residency requirements. Many of these courses may also be satisfied by transfer credit, placement tests, or credit-by-exam (such as CLEP or AP). The College of Nursing maintains general education requirements complimentary to the institutional requirements, which are listed below.
Foundations
| | |
| --- | --- |
| English | 3 Credits (1 course) |
| Mathematics (Math 102 or 105)  | 3 Credits (1 course) |
| Humanities  | 3 – 6 Credits (1 – 2 courses) |
| Arts  | 0 – 3 Credits (0 – 1 course) |
| History | 3 Credits (1 Course)  |
Social Science
| | |
| --- | --- |
| Introduction to Sociology | 3 Credits (1 course) |
| Introductory Psychology | 3 Credits (1 course) |
| Growth & Development | 3 Credits (1 course) |
Natural and Biological Sciences 
At least 21 credits across these categories are needed to satisfy the natural science general education requirement. In many cases, courses from your previous education will apply here.
| | |
| --- | --- |
| Chemistry | 1 course |
| Biochemistry Alternative Course | 1 course |
| Anatomy & Physiology I | 1 course |
| Anatomy & Physiology II | 1 course |
| Microbiology  | 1 course |
| Nutrition | 1 course |
Additional General Education Requirements
Cultural Diversity (may or may not apply)

Foreign Language (may or may not apply)
Electives: 19-25 credits
To hit the 124 credits necessary to be awarded this bachelor's degree, you may need to complete additional elective credits. These may be completed through the UW Flexible Option, though many are commonly satisfied by transfer credit from your prior academic record.
"I need a lot of flexibility. As the director of nursing, I could get called in at 5 a.m. or 10 p.m. That's what I like about the UW Flexible Option: the ability to further my education at four in the morning or 11 at night, whenever it's convenient for me. I can study when I feel ready." – Ken W., '18 Graduate 
Tuition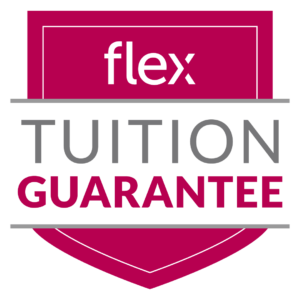 The UW Flexible Option offers working adults – like you – a more affordable way to finish a degree. Your coursework in this online nursing degree takes place in subscription periods – rather than semesters. These subscription periods start every single month, and are approximately 12 weeks long.
Instead of paying based on your course or credit load, you choose between two flat rate tuition plans. Our unique subscription period structure and flat-rate tuition model means you are in control of both your schedule and your cost. Financial Aid is available for this program.
All-You-Can-Learn Option: Choosing this option allows you to enroll in as many courses as you have time for within the subscription period for a flat tuition rate of $2,250. You can add additional courses in your subscription period if you finish others early.
Single Course Option: You may also decide you would like to focus on just one course at a time. The tuition for this option is $1,125.  In this option, you are not eligible to add additional courses during your subscription period if you finish the first one early. In this case, you must wait until your next subscription period to add additional courses.
| | | |
| --- | --- | --- |
| Subscription Option | Courses you can take | Tuition |
| All-You-Can-Learn | 2 or more | $2,250 |
| Single Option | 1 | $1,125 |
You can switch back and forth between these tuition options when you start a new subscription period. For example, perhaps over the summer you do the Single Course option because your family is home on summer break, but once the kids go back to school in the fall you switch to the All-You-Can-Learn option.
Are there any additional fees? There are no segregated fees with this program, which saves you hundreds of dollars per credit hour. However, your tuition does not include the cost of textbooks or other special materials that may be required for individual courses.
Advocate Aurora Health
The UW-Milwaukee College of Nursing is proud to be a "preferred partner" with Advocate Aurora Health and EdAssist to offer quality educational programs at an affordable tuition rate. Students enrolled in Advocate Aurora's "preferred partner" education programs receive a higher tuition reimbursement rate than those enrolled in other education programs. If you are an employee of Advocate Aurora Health and are interested in learning more about your educational assistance package, please speak with your employee benefits contact. 
Admission
Finishing your online nursing degree is closer than you think! Schedule an advising call at 608-262-2011 or contact us at flex@uwex.edu.
Minimum Academic Requirements
Candidates for the Bachelor of Science in Nursing program must have:
Associate Degree in Nursing (ADN) or nursing diploma
Active, unencumbered state RN license
Cumulative GPA of 2.5 or higher from prior coursework
Work experience as a nurse
NOTE: Prior college transcripts from which you may transfer credit must be accredited by a regional or national accrediting organization recognized by the CHEA (Council for Higher Education Accreditation).
While there are no on-campus requirements in this program, students must find their own clinical project and a qualified preceptor in their own workplace or another setting in their community for their capstone course.
How to Apply
You may apply up to five months in advance of your desired start date. See Steps to Apply.

Check out our academic calendar to learn when our upcoming start dates are. There are new start dates every month, so you can get started when it's convenient for you!

If previously enrolled in Flex, please review our 

returning student

 admissions process.
Transfer Credit Evaluations
Transfer credit is awarded for college-level coursework completed at regionally accredited institutions. See

 

Transfer Credit Evaluations

 

for more information.
Learn more

 

about how credit-by-exam and military coursework may apply towards your degree.
Still have questions? Call our advisers at 608-262-2011, and check out our Admission FAQ page.
---