Overview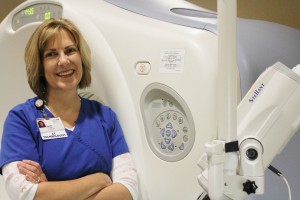 Earn the bachelor's degree you need to advance and stay competitive in a changing workplace
Today, an aging workforce, new technologies, and growing demand for Bachelor's prepared health professionals make this a great time to enroll in the Bachelor of Science in Biomedical Sciences: Diagnostic Imaging degree program from the UW-Milwaukee College of Health Sciences.
Now available in the self-paced, competency-based UW Flexible Option format, this degree completion program will prepare you to assume a wide range of positions and leadership roles in hospitals and clinics, including quality-assurance manager, healthcare administrator, diagnostic imaging educator, and others that require a bachelor's degree for entry to advanced education programs, such as occupational therapist, physical therapist, and physician's assistant. With a bachelor of science in diagnostic imaging degree, you will also be qualified to expand your career into other areas of the medical imaging industry and health related industries.
The program is designed for returning adult learners with several years of healthcare experience who hold active ARDMS (American Registry for Diagnostic Medical Sonography), ARMRIT (American Registry of Magnetic Resonance Imaging Technologists), ARRT (American Registry of Radiologic Technologists), or CCI (Cardiovascular Credentialing International) registry. Students with active registry are awarded a minimum of 60 advanced standing credits.
Career Outlook
The career outlook for Bachelor's prepared health professionals (not including nursing) is projected to grow nationally by 15% over the next ten years with 83% of all job openings requiring a Bachelor's degree.
Who Should Apply
The UW Flexible Option is especially designed for self-motivated nontraditional students who want their previous schooling, work skills, and prior knowledge to apply toward degrees or certificates. The competency-based and self-paced format of the UW Flexible Option fits the schedules of students who must balance work and family responsibilities with educational goals. Because most UW Flexible Option competencies and assessments are delivered online, students have the opportunity to learn when and where they choose.
This self-paced program is ideal for:
Professionals holding an active registry from ARDMS, ARMRIT, ARRT, or CCI. Students who have active registry are awarded a minimum of 60 credits toward the 120-credit degree completion minimum.
Motivated, disciplined self-starters who can work independently.
Those who recognize the value of a University of Wisconsin-Milwaukee degree.
About UW-Milwaukee College of Health Sciences
The UWM College of Health Sciences offers the largest number of health-related degree programs in Wisconsin, training its graduates for high-demand careers. As the largest College of Health Sciences in Wisconsin, the college is also exceptionally proud of its more than 2,000 students, and alumni who provide quality evidence-based care, inspiring education, exceptional research, and administrative leadership in all areas of health and healthcare.
The research activities of the UWM College of Health Sciences faculty and staff encompass groundbreaking urban and population studies, pioneering biomedical research investigations, advances in movement science, ingenious rehabilitation research and development, innovative applied clinical technologies, and novel disease-prevention approaches. These activities are supported by the resources of four academic centers and 13 state-of-the-art laboratories within the college, and millions of dollars in funds from reputable institutions such as the National Institutes of Health, the National Science Foundation, the Centers for Disease Control and Prevention, and the U.S. Department of Education.
Accreditation
University of Wisconsin-Milwaukee is accredited by the Higher Learning Commission of the North Central Association of Colleges & Schools.
Curriculum
This degree completion program requires a minimum of 120 credits for completion. Upon admission to UWM and confirmation of your active registry, you will be awarded 60 credits toward completion of your degree. The remaining 60 credits include General Education Requirements necessary for a UWM bachelor's degree, any elective requirements, and the unique competency sets that define this program:
Lower Division Competency Sets
HS 102x—Healthcare Delivery in the United States
Introduces health care delivery focusing on consumers, providers, organization, financing, quality and utilization of services, health planning, and political and governmental impacts.
BMS 205x—Introduction to Diagnostic Medicine
Imparts knowledge and application of the mechanisms, procedures, physiological basis, decision-making, and evidence based protocols used to diagnose health and disease.
HCA 220x—Leading Healthcare Professionals
Explores effective healthcare leadership of self, others, and groups in complex healthcare settings. Emphasizes the leader understanding his or her own temperament and values in a healthcare context.
ENG 206x—Introduction to Business and Technical Communication
Offers practice assessing communication situations using core rhetorical principles of audience, purpose, and context, and, after study and practice, allows students to demonstrate their competency in producing key verbal and written genres such as email, memos, letters, presentations, and reports.
ECON 210x (or equivalent)—Elementary Statistics
Explores statistical methods of gathering, presenting and analyzing data; estimating means, proportions, confidence intervals, and testing hypotheses; probability and probability distributions; and linear regression and correlation.
BMS 245x—Client Diversity in Health Sciences
Explores cultural self-awareness, rules, behaviors, and biases of diverse societies, as well as the interprofessional application of effective service delivery in the health professions to culturally diverse individuals and families (Required for Cultural Diversity general education requirement).
Upper Division Competency Sets
BMS 314x-Human Pathophysiology I
Study of human pathological processes.  Emphasis on interrelationships among organ systems and deviations from homeostasis. Students will demonstrate a detailed knowledge of pathophysiology, including the etiology, pathogenesis, pathology, pathophysiology, clinical features, treatment and prognosis of commonly occurring diseases.
BMS 315x-Human Pathophysiology II
Continuation of Human Pathophysiology I. The overall focus of this course is the study of human pathological processes.  Emphasis is on interrelationships among organ systems and deviations from homeostasis.
KIN 400x—Ethics and Values in the Health and Fitness Profession
Exploration of morality and ethics and their importance in the allied health professions.
NURS 453x (or equivalent)—Information Management and Healthcare Technology
Introduces computer and information/decision science to support quality and safety in health care. Explore informatics issues and examine nursing's role in healthcare technology. Opportunities to use and master various healthcare technologies and healthcare data will be given.
HS 311x—Law For Healthcare Professionals
Explores law and ethics as they relate to health care. Topics include ethical decisions, contracts, liability, malpractice, informed consent, HIPAA, litigation, healthcare technology, and trial proceedings.
DMI 458x—Seminar in Advanced Medical Imaging (formerly BMS 458)
Compares and contrasts normal and pathological anatomy cases combining ultrasound, computed tomography (CT), magnetic resonance imaging (MRI), and other technologies and their optimal clinical applications..
DMI 463x—Seminar in Education and Management in Medical Imaging (formerly BMS 463)
Explores problem solving techniques for management issues relating to diagnostic medical sonography, as well as educational strategies employed in ultrasound education.
DMI 496x —Professional Growth and Career Advancement in Diagnostic Imaging Professions (formerly BMS 496)
In this competency set learners will gain an appreciation for career growth and advancement opportunities through review and critique of their professional image and social media presence, opportunities for involvement as volunteers and leaders in professional associations, researching legislative, lobbying and advocacy efforts for imaging careers, reviewing the emerging trends in certification and recertification and efforts to create career pathways for mid-level providers (advanced practice). Knowledge of topics is achieved through review of past, current and trending efforts in all topics stated.   Participants will display their understanding by responding to thought provoking assessment that requires researching literature and available media sites devoted to the latest information on career growth and advancements of imaging professionals.
Tuition
The UW Flexible Option offers working adults like you a more affordable way to finish a degree. Instead of paying by course or by credit, you pay a flat rate for a three-month subscription period. If you already know the material, you may be able to pass assessments more quickly and potentially accelerate your time to graduation.
Subscription periods begin on the second day of every month. You can choose from two subscription options, each with a different tuition, depending on the number of courses you wish to attempt during the subscription period. 
All-You-Can-Learn Option:

Choosing this option allows you to enroll in two or more courses. You may enroll in as many courses as you have time for within a three-month period for a flat tuition rate of $2,250. You can add additional courses in your 3 month term if you finish others early.

 This option is 

ideal for learners

 who would like to earn their bachelor's degree more quickly.
Single Course Option:If you would like to study at a slower pace during a three-month subscription period, you may enroll in a single course. The tuition for this option $900 through June, 2020. Starting in July 2020, it will be $1,125.  Students who are enrolled in the Single Course Option are not eligible to add additional courses during their subscription period.  In this case, you must wait until your next subscription period to add additional courses.
| | | |
| --- | --- | --- |
| Subscription Option | Courses You Can Take | Tuition |
| All-You-Can-Learn | 2 or more | $2,250 |
| Single Option | 1 | $900 (through June, 2020) |
| Single Option | 1 | $1,125 (starting July, 2020) |
Additional Fees: Tuition does not include any textbook or special course material costs. There are no segregated fees in the UW Flexible Option, which saves you hundreds of dollars per credit hour.
Admission
Ready to flex your potential and fulfill your goals and dreams?
Schedule an advising call at 877-895-3276 or contact us at flex@uwex.edu.
Minimum Academic Requirements
Candidates for the Bachelor of Science in Biomedical Sciences Diagnostic Imaging degree must have a Diagnostic Imaging Associate Degree, or hospital-based diagnostic imaging program, and an electronic copy of an active registry card.
How to Apply
You may apply up to five months in advance of your desired start date.  All application materials must be received at least one month in advance of your start date.
You will be considered for admission after completing the following action items:
Submit the e-application and the $50 application fee

*

 

apply.wisconsin.edu
Send official college transcripts from all institutions attended (see section below)

Send high school transcript or GED/HSED scores (not required if earned bachelor's degree)

Due to COVID-19, many high school staff are working remotely.  It is recommended to request that an electronic transcript be sent, (if the option available through your high school), as physical (mailed) requests may experience delays.

Complete Holistic Student Profile & Orientation Part 1 (sent after e-application is received)
*No app fee required if previously enrolled in a Flex degree program, UW-Milwaukee or UW Colleges
During the application process, you may be asked to take a math placement test if you have not completed a transferable algebra course. If required, an Enrollment Adviser will explain the process and provide you with instructions to arrange for testing options.
Submitting Transcripts
Official transcripts must be sent from each institution attended in a sealed envelope, or sent electronically through a secure document sending service of the institution (i.e. Parchment/Credentials Solutions or the National Student Clearinghouse).
Due to COVID-19, many institutions have transitioned to remote operations. When ordering transcripts, it is recommended to order e-transcripts only, as physical (mailed) copies may not be available in a timely manner.
When ordering PDF transcripts from your prior institution(s):
Select the

 

University of Wisconsin Flexible Option

 

as the recipient institution
If your order requires an email address, use

 

admissions@uwex.edu
DO NOT

 

send your transcripts to UW-Milwaukee
If sending official transcripts by mail, use the following mailing address:
University of Wisconsin Flexible Option
Admissions Office
5602 Research Park Blvd., Suite 303
Madison, WI 53719
If you were previously enrolled in Flex and now wish to return, discover your next steps.
Holistic Admissions Review
Our admission process considers many factors when assessing your application for admission to a UW Flexible Option program. Your high school records, strength of prior college coursework, rigor of curriculum and academic readiness, test scores, grade point average, academic goals, relevant work experience, and your potential for success will all be considered.
The UW Flexible Option is only admitting domestic students at this time.  A domestic student is someone who is either a U.S. Citizen, a U.S. Permanent Resident, or holds Refugee, Asylee, or Jay Treaty status.  All applicants whose native language is not English are required to submit Test of English as a Foreign Language (TOEFL) scores or similar proof of English proficiency. 
Transcript Evaluations
Transfer credit is awarded for college-level coursework completed at regionally and nationally accredited institutions. The Transfer Equivalency Database (TED) is designed to show how the University of Wisconsin-Milwaukee will award credit for transferable courses both within and outside of the UW System.
If you completed college coursework at a foreign institution, it may be eligible for transfer credit. You will be asked to send your transcripts through an evaluation process with a foreign credential service, such as Educational Credential Evaluators or World Education Services, to determine U.S. credit equivalents.
Credit by Exam and Military Credit
You may use certain exams to transfer credit towards your degree. These include College Level Examination Program (CLEP), Advance Placement (AP), International Baccalaureate (IB), or others.  Learn more about how exam and military coursework might applied towards your your degree plan.
Still have questions?  Check out our Admission FAQ page.