Maggie Zoerb left college her freshman year, promising her dad she'd return one day. Twelve years later, she fulfilled that promise. In March 2018, Maggie earned her Bachelor of Science in Information Science and Technology from the University of Wisconsin-Milwaukee School of Information Studies. Not only did she make good on her promise, but she moved into a management position.
Maggie's dad's response? "Maggie makes me proud to be her dad every day of my life. For her to finish her education has only solidified my love and respect for a fantastic daughter, mother, and professional."
Maggie credits the unique online, self-paced format of UW Flexible Option for making it possible to complete her college education.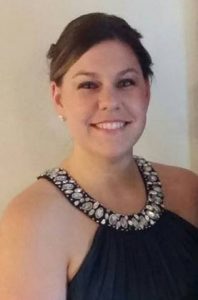 "I can't say enough about the flexibility. It's essential. I'm running in every direction. I appreciate the ability to rely 100% on myself and not on another person's timeline."  
Not only is it online, but busy working parents appreciate that they are in control of their schedules.
"I went back to college during maternity leave with my second child. I was a full-time student, full-time employee, single parent, and never missed a beat with school. Now I'm planning a wedding and adding two stepsons to our family! If I can make it work, anybody can."
An Affordable Option
UW Flexible Option saved Maggie money on tuition through the competency-based program.
"I researched many college degree options. Once I looked into UW Flexible Option, I priced it out and looked at the competitors.  Nothing else was as appealing financially. I estimate I saved $11,000 over a traditional online degree through UW Flexible Option."
Get a UW Flexible Option Degree Guide
Download an introductory guide (PDF) to the self-paced, competency-based UW Flexible Option programs, including details about costs, admission requirements, and more.
A Career Boost
At her employer, UW Health, Maggie sought permission to apply for a supervisor position before completing her degree.
"I was not a supervisor when I started, but I knew I would need the degree if I wanted to continue to advance. I was at my limit. I needed a bachelor's for a management position."
With a graduation date in sight, she was granted permission to apply and landed the position. She now supervises 11 people. Her team supports Epic software, providing onboarding training for physicians, clinical staff, schedulers, and clinic managers. The team also works day-to-day with end users in real-time to help clinic operations run smoothly.
Resources for Success
Maggie is grateful for her Academic Success Coach, Danielle Stertz.
"We're given an academic success coach at the start, and my advice is that you need to use them! I feel like I could not have done this without Danielle. She was always in my corner, she helped me with orientation, answered my questions about competencies and she always handled my crazy, panicked emails!"
She said, "I have only one question: when is the UW Flexible Option master's degree coming?"
Read More
Which Pace Is Right for You? Part 1: Former Programmer Analyst Andrew Hybert
Which Pace Is Right for You? Part 2: IT Consultant Cathy Zornes
Which Pace Is Right for You? Part 3: U.S. Marine Corps Vet Matt Rose
Learn more about how you can earn your bachelor's degree through UW Flexible Option. Contact us today at 1-877-895-3276 or flex@uwex.wisconsin.edu.