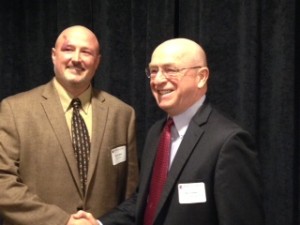 Aaron Apel set out to "flex his potential" in January, when he became the first official applicant to the University of Wisconsin Flexible Option program. Just three short months later, Apel says his Flex experience is picking up steam.
"I wanted to start out slow, to see how things would work, especially since this is a new experience for everyone," Apel says. "It's going really well. I'm happy with the process and am looking forward to starting my second subscription period in April."
Apel has worked for UW-Madison for nearly a decade and currently is an employee in the Office of the Registrar. But while he's no stranger to the higher education scene, Apel himself never completed his bachelor's degree. His desire to grow his career is why he jumped at the chance to try out the new Flex program and earn his degree. He is a working, married father of three, and flexibility is critical to his schedule. So far, he says, the Flex program has lived up to its name, allowing him to work toward his bachelor's degree in Information Science and Technology on his own terms.
"I wouldn't change a thing at this point," Apel says. "It's pretty convenient. I do a lot of the work after the kids go to sleep. I fire up the computer, read through my materials and work through the assessments. It's nice it hasn't had much of an impact on my kids."
Apel says the availability of instructors, the feedback he's received, and the general delivery method of the Flex program have worked well for him. While he says his busy schedule will likely limit him to taking one course per subscription period, he feels confident the program will allow him to meet his ultimate goal: to earn his bachelor's degree and take the next step in his career.
To find out more about the UW Flexible Option and whether this competency-based education option is a good fit for you, call a friendly enrollment adviser today at 1-877-895-3276.
Explore UW Flexible Option Programs
Student Stories
Why One Busy Nurse Chose the UW Flexible Option's RN to BSN Program
How One Ambitious Student Saved $7,500 and Nine Months in His Very First UW Flexible Option Subscription Period
CT Technologist Finds New Challenges, Direction with Competency-Based Diagnostic Imaging Program
Busy IT Specialist and Bass Player Still Finds Time to Earn His Bachelor's in Information Science and Technology Degree
A Lifetime as a Computer Wiz, and Soon an Information Science and Technology Degree to Show for It