"I love technology," said Dustin Schultz, faculty member in UW-Milwaukee's 100% online Bachelor of Science in Information Science and Technology (IST) program offered through UW Flexible Option. "It makes people's lives easier when it's done right, and I enjoy finding out how to do that."
His grandmother gave him his first computer as a birthday gift at around 10 years old. After enjoying video games so much, he was excited to expand his technical knowledge to a new format.
"I became interested in changing components and upgrading parts of my computer," Dustin said. "Within a few years, my first one looked the same on the outside, but it was totally new on the inside."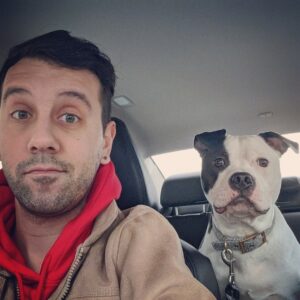 Dustin earned his bachelor's degree in Information Technology from UW-Milwaukee's School of Information Studies (SOIS) in 2015. As a student, he worked as a help desk technician, and eventually was promoted to a supervisory position. Upon graduation, SOIS invited him to stay on as its first IT department coordinator. This is also when Dustin began teaching in the UW Flexible Option IST program.
"Both SOIS and the IT department were growing quickly from when I joined as a technician to the time I was graduating," Dustin said. "We hired new instructors, we were opening up new classes, and we were bringing up new labs. The role that I took was basically a medium between our system administrator and the tech office. My role was managing the tech office, as well as duties as assigned."
In January 2019, Dustin transitioned to a role outside of the school as a privileged access management engineer for Northwestern Mutual. He describes his role as a "password manager."
"With all the security breaches going on nowadays, common practice is to take permissions off of your personal accounts and put them onto non-personal, shared accounts," Dustin said. "Our primary job is to work with an application to manage those IDs."
Even though he no longer works at the school full time, Dustin continues to teach in the UW Flexible Option IST degree program. The following Q&A highlights Dustin's experience as a UW-Milwaukee IST instructor:
How did you become involved with the UW IST bachelor's degree?
I was introduced to UW Flexible Option shortly after starting the IT coordinator position. Initially, it started with assisting and coordinating with the instructors to help them with course development and learning software navigation. 
Then, a temporary position opened to teach the INFOST 330: Electronic Information Retrieval Systems course. Though it was in a different format, I had taken the course as an undergrad, so I was familiar with the content and felt comfortable in my ability to work with students. It's not an IT-focused course, but it's a database course. That course has really grown on me.
After enjoying that course, I was offered the opportunity to also teach the INFOST 240: Web Design I and INFOST 375: Multimedia Web Design courses. I still teach those three courses today.
Get a UW Flexible Option Degree Guide
Download an introductory guide (PDF) to the self-paced, competency-based UW Flexible Option programs, including details about costs, admission requirements, and more.
What's your favorite part about UW Flexible Option?
It's a really modern take on higher education. Even right out of high school, timing for college is often a real detractor. People are so busy. The UW Flexible Option allows people to learn remotely at their own pace. This is an awesome way for people who are working 9 to 5 jobs to earn their degree. It gives those people the opportunity to get a degree on their own schedule, whether that's six months or a few years.
The UW Flexible Option format was beneficial in March 2020 when learning around the world turned remote. Our students could continue learning because the program was already fully online. Their learning environment was more or less not affected.
How do you use your industry experience in your teaching?
At Northwestern Mutual, I work with teams that I may not be familiar with what they do or what they know. Working with students can be thought of in the same way. I don't know my students' day-to-day lives. When I am interacting with them, it's really important for me to try to understand the background of where they're coming from. I don't know if I'm talking with someone who's worked in IT for 10-20 years or if I'm talking to a stay-at-home mom who wants to earn her IST degree. Those communication and people skills are really important.
Why should prospective students consider the UW Information Science and Technology program?
After working with the staff at UW-Milwaukee SOIS and knowing them personally, I know they are an extremely passionate bunch of people, and I think that shows in the courses that SOIS offers. 
The staff and instructors are also very interested in keeping the content up-to-date. When it comes to the ever-changing world of IT, the courses that students may take today or the new jobs that are spinning up today may not be in all collegiate programs yet. However, SOIS always offers new and progressive courses. I noticed this as a student myself, too. I took courses like multimedia web design, introduction to web design, and programming when these were fairly new to the field. Now, they're introducing courses with security and privacy protection, which is an upcoming and important part of the industry today.
I know taking the jump can be scary for a number of reasons. However, there are so many accommodating educational options nowadays, and UW Flexible Option is a perfect example of that. We want to make it work for you. There is a workforce of people that want to help support you, including the academic success coaches. They understand that students have different backgrounds and lead very different lives, and they want to help you in any capacity they can.
Want to learn more about how expert faculty members and instructors, like Dustin Schultz, teach and prepare UW Flexible Option Information Science and Technology students for in-demand careers in the IT field? Check out the program's curriculum or contact an enrollment adviser at 1-877-UW-LEARN (895-3276) or flex@uwex.wisconsin.edu.