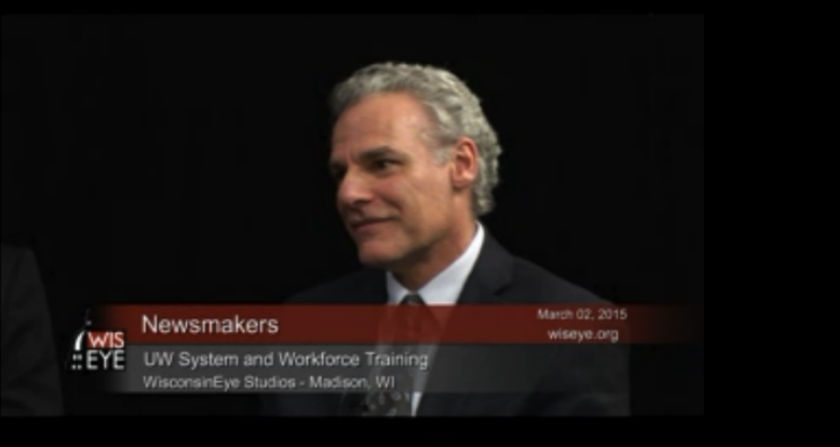 On March 2, WisconsinEye's Newsmakers segment featured an interview with two prominent figures in University of Wisconsin continuing education:
In the interview, Steve Walters, a senior producer at WisconsinEye, discussed the purpose and goals of the continuing education programs offered by UW-Extension and UW-Madison as well as how they will fare with the recently proposed state budget cuts.
Brower believes continuing education programs are essential. They bring to life the Wisconsin Idea, a principle that has guided the University of Wisconsin System for more than a century, inspiring it to extend high-quality education and lifelong learning opportunities to people in every part of the state. "Our goal is to increase access and student success," Brower said.
Walters focused his questions primarily on the UW Flexible Option, a competency-based learning program that has gotten a lot of buzz in the media for being a way to "hack" college, or save students time and money. "It offers the same learning outcomes as a traditional degree program," Brower said. "Employers are looking for qualified workers [but are already finding a substantial gap in credentials and skills]. UW continuing education programs are trying to fill that gap by providing adults with training for both technical skills and soft skills, such as leadership and communication, which employers say are lacking in the applicant pool."
UW Flexible Option programs are continually being developed to try to meet the highest demands in the job market. As Brower said in the interview, the existing degree and certificate programs are focused on these particular in-demand industries—health care, business, and information technology.
Watch the full 35-minute WisconsinEye interview here.
To find out more about the UW Flexible Option and whether this competency-based education option is a good fit for you, call a friendly enrollment adviser today at 1-877-895-3276.
Explore UW Flexible Option Programs
Student Stories
Why One Busy Nurse Chose the UW Flexible Option's RN to BSN Program
How One Ambitious Student Saved $7,500 and Nine Months in His Very First UW Flexible Option Subscription Period
CT Technologist Finds New Challenges, Direction with Competency-Based Diagnostic Imaging Program
Busy IT Specialist and Bass Player Still Finds Time to Earn His Bachelor's in Information Science and Technology Degree
A Lifetime as a Computer Wiz, and Soon an Information Science and Technology Degree to Show for It
Get a UW Flexible Option Degree Guide
Download an introductory guide (PDF) to the self-paced, competency-based UW Flexible Option programs, including details about costs, admission requirements, and more.