With the UW Flexible Option, the tuition rate you pay when you start your program will not change until you graduate. That's the Flex Tuition Guarantee.
Overview
Your tuition will not increase with our Flex Tuition Guarantee
When the UW Flexible Option launched, we were one of the first public institutions to put you in control of the cost of your degree with an affordable, flat-rate tuition model.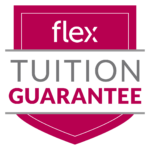 This flat-rate, self-paced model has helped hundreds of students—like Tyler, Denise, and Aaron —complete their degree at a pace they set, not a pace that was set for them. Whatever your goal is, our programs will help you achieve it on your schedule, and on your budget. 
We've all seen the headlines—annual costs to earn a university degree continue to rise. So we're continuing to innovate, because we strive to be part of the solution to college affordability, not part of the problem.
You're locked in to the rate you start with. No gimmicks, no bait-and-switch. What you see is what you pay: from now, until you graduate. Our commitment to affordability is one of our core values, and we are proud to continue being your path to your degree. 
Frequently Asked Questions
Does the Flex Tuition Guarantee expire? 
No! As long as you're an active student, whether it takes you 1 year or 4 years to graduate, your tuition remains locked, even if the institutional rate increases while you're in school. You must be an active student with us to maintain the guarantee – see the next question for details. 
What if I need to take some time off from school? 
Taking breaks in between subscription periods is one of the most used benefits of our flexible programs. If you need to take a few months off, that's okay—you won't lose your tuition lock. However, if you take a break equal to or longer than one year (12 months), your Flex Tuition Guarantee will lapse, and you will be subject to the current tuition rate when you restart. 
Does the Flex Tuition Guarantee follow me if I change degree programs? 
No. It is tied to your enrollment in your specific UW Flexible Option program. If you change programs (e.g. switching from the Associate of Arts and Science to the BS in Business Administration), your prior locked-in rate does not transfer. You will then be assessed the current tuition rate, and begin a new Flex Tuition Guarantee for your new program.
I'd like to transfer from the UW Flexible Option to a face-to-face program, does the Flex Tuition Guarantee transfer with me? 
No. The Flex Tuition Guarantee is only applicable to UW Flexible Option programs. Other UW programs, online or in  person, are not covered by the Flex Tuition Guarantee. 
Which UW Flexible Option programs are eligible for the Flex Tuition Guarantee? 
The Flex Tuition Guarantee applies to all credit-based degree or certificate UW Flexible Option offerings at all partner University of Wisconsin institutions. Non-credit programs are ineligible. You can see this page for our current list of available offerings.  
Which educational costs are covered? 
The Flex Tuition Guarantee only applies to your tuition. It does not apply to any textbooks, lab materials, special course resources, capstone costs, administrative fees, withdrawal fees, finance charges, or any other costs associated with your degree.
When does the Flex Tuition Guarantee take effect? 
It begins with the July 2020 subscription period's tuition rates. Any tuition rate paid prior to the July 2020 subscription period is not covered. All students active prior to July 1, 2020, will be locked in to the tuition rates that are current as of the July 2020 subscription period. Any future student's tuition rate will be locked-in to the prevailing rate of the time of their first subscription period enrollment. 
Do I have to apply to get the locked-in rate? 
No separate application necessary – your rate lock-in is tied to your enrollment in the program.