With over 15 years of experience as a staff nurse, along with recently earning her Bachelor of Science in Nursing (BSN), one thing might surprise you about Tiffany Breezee — she dropped out of high school.
"When you're younger and you think about what you're going to do with your life, you don't really expect to know how your future is going to pan out," Tiffany said.
In her eyes, Tiffany's career journey is a convoluted tale. Frustrated with 70-hour work weeks at three different jobs, Tiffany was dissatisfied with her future outlook and knew she needed to change her path. At 18, Tiffany completed her high school equivalency diploma. Then, at 21 she pursued an associate's degree in nursing at Wisconsin Indianhead Technical College (WITC). Having always been drawn to science and looking for a career that would both challenge and motivate her, Tiffany saw nursing as a new and proactive role in which to apply herself. Admittedly, Tiffany knew very little about what she was getting into — no one in her family had obtained a medical science profession degree before — but she was determined to at least try.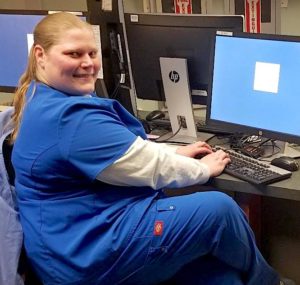 Three years later, Tiffany graduated from WITC with an associate's degree and passed the NCLEX exam. As a new registered nurse, Tiffany felt like she had made it. Next, she worked her way from registered nurse to assistant head nurse of the surgical intensive care unit (ICU) at Essentia Health in Duluth, MN. There, she influences decisions regarding unit improvements, speaks to the work of the nursing staff, and advocates for advancements in bedside care. However, once again, Tiffany knew she wanted to do more, and the next logical step was to obtain her BSN and reach her full potential as a nurse.
Tiffany searched for a BSN degree from a university that had respect behind its name. Quality of education, flexibility with her work schedule, and affordability were at the top of her mind. After she enrolled in the University of Wisconsin Flexible Option RN to BSN online program, Tiffany knew she made the right choice.
Discovering Opportunities Through UW Flexible Option
Powered by its career-focused education model, the UW Flexible Option online RN to BSN nursing curriculum is designed for working registered nurses like Tiffany. The program provides an affordable and flexible option for registered nurses to earn the BSN they need to move up in their current positions and to stay competitive in the ever-growing healthcare ecosystem.
UW Flexible Option BSN students have the ability to learn when and where they choose. Progress is not limited by a traditional semester or term-based schedule, and students are allowed to take needed breaks throughout their studies. This flexibility suits the busy and varied schedules of working RNs, providing opportunities that allow them to advance their education while also focusing on their career.
Through a self-paced curriculum, students focus on mastering competencies or skills by taking competency sets and passing assessments assigned to specific education areas such as leadership, communication, care management, and more. With this format, students are able to expand upon and apply their current knowledge and previous education. Upon graduation, students receive their BSN from the UW-Milwaukee College of Nursing, which is in the top 15 percent of U.S. nursing programs.
Get a UW Flexible Option Degree Guide
Download an introductory guide (PDF) to the self-paced, competency-based UW Flexible Option programs, including details about costs, admission requirements, and more.
Catching the Attention of UW Nursing Faculty
Lisa Mihlbauer, a clinical associate professor and the director of RN-to-BSN completion programs at UW-Milwaukee College of Nursing has taught many students during more than 35 years at the university. When Tiffany was in her genetics and capstone competency sets,  however, her work instantly stood out to Professor Mihlbauer.
"I had never seen assessments so well done," Professor Mihlbauer recalled. "I was shocked at her level of proficiency, so much so that when I first read her submission I reached out to Tiffany's academic success coach right away and asked if she had a previous baccalaureate degree, because she appeared to be almost an expert writer on the subject."
Throughout the rest of her competency sets, Tiffany's work continued to impress and exceed expectations. Other faculty members in both nursing and health sciences contacted Professor Mihlbauer to praise Tiffany's work when she completed exemplary assessments.
"I can't tell you enough about how stellar her work was," Professor Mihlbauer said. "Tiffany's story really spoke to me because she came into this program with an associate's degree and used that degree along with her significant work experience as a nurse and really soared."
Bringing Her Capstone to Life
Tiffany attributes her success in the UW Flexible Option RN to BSN online degree program to her work experience as an ICU nurse.
"The program gave me a basis for what elements really make an impact on patient outcomes, because I was directly seeing them in my work," Tiffany said. "As an assistant head nurse, I knew I wanted to focus my attention on developing a unit that spoke to the practice and the work that our nurses do every single day."
Prior to enrolling in the UW Flexible Option program, Tiffany found that many nursing roadblocks developed when she and her colleagues struggled to bridge the gaps among practice, research, and improved outcomes. Fortunately, the BSN program strengthened Tiffany's leadership and communication skills, along with her action plan strategies to address such discrepancies. For example, Tiffany notes that the chronic care management and symptom management in chronic and life-limiting illness competency sets further enhanced her clinical skills. Lessons from these competency sets helped her better understand the barriers to health management and how to overcome obstacles by providing a more personalized approach to patient education and condition management outside of the structured hospital environment.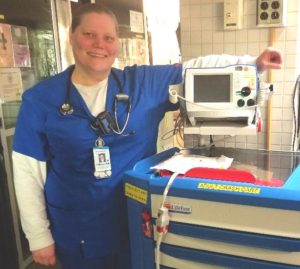 For her capstone project, Tiffany drew on everything she learned in the online BSN program, and yielded positive results for the ICU at Essentia Health. Her team was dealing with a significant level of clostridium difficile (C.diff) bacteria infections among patients who were experiencing diarrhea, abdominal cramping, dehydration, and in more serious cases, inflammation of the colon. Tiffany saw her capstone project as an opportunity to contribute to her current patients' health and decided to focus her capstone on decreasing the infection prevalence in her unit.
First, Tiffany and the nursing staff used materials and lessons from her capstone to form a multidisciplinary team where she applied clinical practices she had learned to improve specific outcomes. Then, they identified increased risk factors for infection in their patients. She also used skills from her leadership and management competency sets to strategically plan and focus on staff development.
Tiffany and the nursing staff's main goal was focused on bedside nursing interventions that would lead to a significant risk reduction for their high-risk patient population, such as proper patient placement, preemptive isolation criteria, infection prevention education on the correct donning and doffing of personal protective equipment, standardized stocking processes to reduce cross contamination, effective hand washing, and more.
Afterward, the multidisciplinary findings on potential lapses in environmental services and infection prevention departments were reviewed, and corresponding department managers facilitated improvements in terminal room cleaning processes, ancillary staff education, patient inclusion and exclusion criteria, and standardization for risk reduction in patient care areas.
"At the end of the day, we wound up with an 86 percent reduction in our C.diff infection rate, which is well beyond what's expected in literature and other research," Tiffany said. "The majority of the interventions that led to this success were nursing driven, because we were able to find the knowledge gaps that our nursing staff had. The project was a great indication of what you can accomplish when you apply the core concepts of your education."
News of Tiffany and the nursing staff's C. diff infection reduction success circulated, and they were recognized by Essentia Health's CEO. Their work was also forwarded systemwide to improve other departments.
"Even though we have a small unit with 11 beds, we found out that a lot of our nursing interventions were closely related to everyday practice," Tiffany said. "So, if what we found has greatly impacted the care of the nurses we have — it's exciting to think about how this positive outcome can help even larger populations."
Reflection and Motivation for the Future
As a recent graduate, Tiffany reflects on her time in the UW Flexible Option RN to BSN program, while also looking toward the future.
Tiffany is committed to lifelong learning and has applied to a handful of doctorates of nursing practice (DNP) programs. She is excited to keep her options open as she figures out which of her many passions in patient care she wants to further establish. Joining cardiothoracic surgeons as a bedside nurse practitioner is one direction she is currently considering.
For registered nurses who are considering a BSN program or newly BSN graduates like herself, Tiffany believes the best advice she can give them is to recognize their potential and to never stop trying to achieve it.
"I'm still surprised by how much I have done," she said. "When you come from a background like mine, your future is not always optimistic, but I know I can accomplish what I set out to do now."
The UW Flexible Option RN to BSN online program allowed Tiffany to pursue an education despite her busy nursing career, and she sees the same value for other working adults alike.
"It's really encouraging that someone like me — I guess you would say who had humble beginnings — can succeed in a program like this," Tiffany said. "Even though I didn't have face-to-face communication with the faculty, through their availability and expertise in my competency sets and my prior work experience, all of that led to my success, and that is quite amazing."
Are you interested in earning your BSN? Call or email us today at 1-877-895-3276 or flex@uwex.wisconsin.edu to get started.