Have you been wanting to return to nursing school to complete your BSN, but are unsure how to pay for it? Vikki Surerus asked herself this same question when she considered how to build on her ADN to earn a BSN. She approached her employer and was able to use her company's tuition benefit to return to college.
What Vikki discovered about her workplace is true of many health care providers. Employers attract, retain, and develop strong nursing teams by offering tuition reimbursement. This helps practicing nurses return to college to advance professionally. "I would not have gone back for my BSN without the tuition benefit. It can be hard for working women to think that they should invest in themselves," Vikki explains. Fortunately, many employers recognize that an investment in their employees strengthens their organization so they can better serve their clients, patients, and communities.
Vikki learned about tuition reimbursement from the administrative team at her workplace, the Barrett Care Center in Minnesota. She worked with that team to put her tuition reimbursement benefit into action. After a thorough online search, Vikki discovered the UW Flexible Option RN to BSN program, offered by the College of Nursing at the University of Wisconsin-Milwaukee.  "I was attracted to this program because UW-Milwaukee is reputable and has a long history of delivering online education," Vikki notes. In fact, the College of Nursing regularly earns industry recognition for their quality work, and has several award-winning faculty.
A flexible online RN to BSN program
Vikki's employer does not limit the number of courses she takes each term, and her tuition benefit also covers the cost of textbooks. In the UW Flexible Option RN to BSN program, a student can enroll in one course at a time; or for twice the tuition, students can enroll in as many courses as they can complete in one subscrip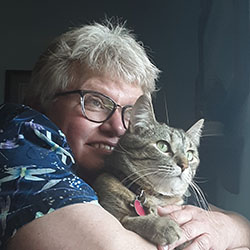 tion period—which is 12-weeks long. Vikki enrolls in one or two courses each subscription period, depending on how much time she has for study.
The program flexibility was also a plus for Vikki. "I like the self-paced nature of the program and that I can carry my studies from one subscription period to the next," she explains. In the UW Flexible Option, Vikki works at her own pace to master the material, and she can enroll any month of the year instead of waiting for a new semester to start.
Vikki interacts with her instructors around her work, and she is guided through the program by an Academic Success Coach. Vikki's Academic Success Coach (ASC) helps her design an academic pathway that works with her schedule. Her ASC also assists with time management, and connects her to resources at UW-Milwaukee.
Some workplaces offer scholarships through their foundations and from donors. To learn more about your employer's policies, start by connecting with Human Resources and your unit manager. Employers usually communicate this information through regular email and intranet resources, or through employee benefits training.
Get a UW Flexible Option Degree Guide
Download an introductory guide (PDF) to the self-paced, competency-based UW Flexible Option programs, including details about costs, admission requirements, and more.
How can you make this benefit work for you?
With the UW Flexible Option RN to BSN degree program your tuition reimbursement benefit goes further. The Flex Tuition Guarantee locks in your tuition rate for the entire time that you are enrolled in the  program. And if you take advantage of the unique All-You-Can-Learn tuition rate, your tuition reimbursement benefits can go even further. UW-Milwaukee supports employer tuition payment plans for all of their programs, including several other healthcare-related degrees. There is no application fee to get started.
Contact your HR specialist to begin your conversation about tuition reimbursement availability and eligible programs. For example, UW-Milwaukee's nursing program is a preferred educational partner for Advocate Aurora. Program faculty, students and graduates have worked with many other health care providers, listed below.
Advocate Aurora | Agnesian Health Care | Ascension Wisconsin | Beloit Health System | Blood Center of Wisconsin | Cancer Treatment Centers of America | Centegra Hospital | Children's Hospital of Wisconsin | Community Memorial Hospital | Edgerton Hospital | Fresnius Kidney Care | The Froedert & The Medical College of Wisconsin | Gunderson Health | Holy Family Memorial Hospital | Hospital Sisters of Health System | Humana | Marshfield Medical Center | Mayo Clinic Health System | Mercy Health System | Meriter Unity Health System | Prohealth | SSM Health | ThedaCare | UW Health | Veteran's Administration | Watertown Regional Medical Center
Check with the human resources department at your or any of the organizations listed to confirm if tuition reimbursement is available.  For more details about the program, tuition, or enrollment, call an enrollment advisor today at 1-608-800-6762 (1-877-895-3276), email flex@uwex.wisconsin.edu, or submit an inquiry.