After graduating from one of the top 20 high schools in Illinois and being accepted to all of the colleges she applied for, Victoria started her undergraduate career at a prestigious liberal arts college. At 18, she knew what came next: four years of straight A's before landing a great job. She was raised to believe that there was no time to waste. Today, when she reflects on that period of her life, she knows that she would've been better off taking a gap year.
College was an awful experience for Victoria, as she dealt with personal challenges and received little support while on campus. She transferred to a few other colleges and eventually came to a decision.
"I finally knew that I needed a break," Victoria said. "I wasn't getting anywhere, and if I didn't take care of myself nothing was going to get better."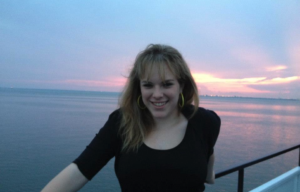 Once Victoria chose to put her well-being first, life unfolded in a new way. She met her husband, got married, and had a daughter. At that point, she knew she was ready to go back to school.
There were things Victoria still wanted to do with her life. She had the goal of becoming a math teacher and knew she could begin by working a flexible schedule as a substitute teacher. But first, she needed her associate degree.
"That's when I found the wonderful University of Wisconsin Flexible Option, which worked great with the fact that I had a child, two step kids, and a husband with a crazy work schedule," Victoria said. "I was always smart and excelled in school, so it was never a question of if I could go back to college. The biggest question was if the program was the right fit for me and my life. And UW Flexible Option fit perfectly."
Finding Support She Always Hoped For
Designed for self-starters with transferable college credit, the UW Flexible Option Associate of Arts and Science (AAS) degree from UW-Milwaukee is an online competency-based format that lays the foundation for more than 200 college majors. Nontraditional students who need more flexibility in their daily schedules are able to master skills by completing competency sets, similar to courses, that fulfill general education requirements.
The self-paced program allows motivated, disciplined students to start at the beginning of any month. Progress is not limited by a traditional semester or term-based calendar, and the structure provides the freedom to successfully balance work and personal responsibilities all while working toward a desired degree. Students complete assessments when it's most convenient for them with no required seat time in a classroom. And, from day one, students are paired with an Academic Success Coach who is there to field any questions and provide support throughout the program.
Although Victoria laughs at the idea of a maintaining a "schedule" when it comes to simultaneously raising a young child and earning an associate degree, she was able to find the balance that worked for her.
She completed coursework and readings in 15-to-30-minute sprints while her daughter was occupied and took advantage of longer study sessions after putting her to bed. True to its name, the flexibility of
UW Flexible Option allowed Victoria to balance parenting and studying.
"There was a class or two that I needed to extend to a second term because life got a little hectic," Victoria said. "But guess what? I always had another chance to finish those classes. And, I didn't have to repeat those courses from the beginning, which was a huge stress relief. The online structure and flexibility were exactly what I needed, and it wouldn't have been the same if I'd went to a brick-and-mortar university."
Remembering the challenging experiences she had as an on-campus undergrad student, support throughout the UW Flexible Option program was imperative to Victoria. The encouragement she received from Ariel, her Academic Success Coach, and other faculty members was everything she could've hoped for.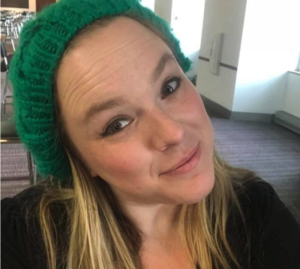 "Ariel was fantastic, and she became my advocate throughout the entire program," Victoria said. "Any time I had a question, she was right there and got back to me within a day or two. I was never on my own, and that meant so much to me."
Victoria also credits the support she received from outstanding faculty members. In particular, she recognizes her religion professor, James K. Powell II, a senior lecturer at UW-Milwaukee. Through his self-made YouTube videos, Victoria felt connected and part of Powell's classes, and if there was ever a concern or question about an assignment, he was quick to get back to her.
"You can tell that he loves what he is teaching and he truly wants to be there for you," Victoria said. "He genuinely cares about his students and wants them to succeed."
"And to be completely honest, I truly think that I succeeded with UW Flexible Option because of all of the support, and I cannot speak highly enough about those who were there for me."
Get a UW Flexible Option Degree Guide
Download an introductory guide (PDF) to the self-paced, competency-based UW Flexible Option programs, including details about costs, admission requirements, and more.
One Big Step Closer to Her Dream
Now as an UW Flexible Option AAS graduate, Victoria is proud of completing her goal and finishing what she started.
"I know that a lot people go through what I've experienced: failing at college, struggling in a class, or having trouble at work, and it wears you down. It can really hurt your spirit," she said. "But finally being able to get a degree—it can restore you."
Victoria is looking forward to submitting her substitute teacher paperwork and getting back into the classroom, but this time in a new role. She is no stranger to feeling overwhelmed in school, and she hopes to help her future students find their own confidence.
Reflecting on her journey, Victoria is thoughtful and genuine with her advice for prospective AAS students who might be unsure of how to fit going back to school into their complicated lives:
"UW Flexible Option won't be like any college experience you've had before, and that's a good thing!" she said. "You have nothing to lose. Don't be scared to take your shot."
What's Next?
Want to learn more about how the UW Flexible Option AAS online degree can help advance your career or educational goals? Call 1-877-895-3276 or email flex@uwex.wisconsin.edu to get started.