Students are often told they need to expand their education to expand their opportunities. But when those students are working adults, busy with jobs and families, how do they find the time?
Increasingly, the answer is a professional certificate. Once a small segment in the world of continuing education, in recent years certificates have emerged as respected and sought-after credentials in the professional market.
A 2012 study by the Georgetown University Center on Education and the Workforce found that certificates have become the second most common postsecondary award in the U.S., with over one million awarded each year. Of those one million, over one-third of the recipients already hold an associate, bachelor's, or graduate degree. So why pursue a certificate over a degree?
The answer depends on your educational needs. Many certificate recipients are working professionals who have identified a skills gap that is preventing them from elevating their career to the next level. A certificate represents an expedited path to building more value in your current workplace. In as little as three months, you can gain knowledge in areas like project management or technical writing that will benefit your employer and your career.
If you aren't already in a fulfilling career, a certificate can still offer you benefits. Depending on what industry you're interested in, a certificate may hold even more value than a formal degree. In fields like information technology, aviation, and electronics, hiring recruiters tend to focus on usable skill sets rather than just degrees. By validating your skills in focused areas with certificates, you gain an advantage in those job markets.
How do you find the right certificate?
Regardless of where you stand in your career, if your lifestyle prevents you from pursuing the full course load required for a degree, consider a certificate. Here are some factors to consider in choosing the best certificate for you: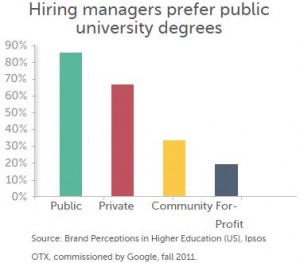 Consider the source. There are seemingly endless options in online continuing education; it can feel overwhelming to choose one. But the Brand Perceptions in Higher Education survey, commissioned by Ipsos OTX, revealed that hiring managers vastly prefer public university degrees.
Pick a format. You can find reputable certificate programs in both face-to-face and online formats. Choose the option that will best work with your lifestyle, and you'll be more likely to succeed.
Understand the cost. The average cost for a certificate program in 2013 was $6,780, but there are options on either end of that range. Some certificates are eligible for financial aid, and some employers will supplement the lower cost of a certificate, so be sure to explore your options.
Take into account the scope of the program. Programs that are too broad might not provide enough in-depth knowledge to be valuable, but with too niche a focus, you may have a hard time finding a job that would benefit from those specific skills.
Get a UW Flexible Option Degree Guide
Download an introductory guide (PDF) to the self-paced, competency-based UW Flexible Option programs, including details about costs, admission requirements, and more.
Develop new skills with certificates from the University of Wisconsin
The UW Flexible Option factors all four variables into the development of its certificate programs to offer students the most value for their time, effort, and dollar. Our diverse collection of professional certificates has recently expanded to two new areas of focus: project management and substance abuse counseling.
These new certificates, like all the program offerings through the UW Flexible Option, are designed specifically with busy, working adults in mind.
The Project Management Certificate, offered in partnership with UW-Parkside, is ideally suited for employees with mid-level business experience whose careers would benefit from an increase in project management skills, or entrepreneurs who would like to improve their ability to lead projects within their own organization. UW-Madison's Substance Use Disorders Counselor Certificate is a unique and exciting program—it's the only state-approved online program in Wisconsin that fulfills the educational requirements for becoming a certified substance abuse counselor in the state of Wisconsin.
These new certificates, like all the program offerings through the UW Flexible Option, are designed specifically with busy, working adults in mind. They're competency-based programs—they allow students to leverage knowledge they've already mastered to move more quickly through the program. There are no rigid semester or course schedules; you can advance through the material at your own pace, mastering competencies in as little or as much time as you need.
Want to learn more?
If you think a certificate might be the right answer for your educational needs and want to learn more about UW Flexible Option programs, call 1-877-895-3276 or email flex@uwex.edu to speak with an enrollment adviser today!
Read more
Competency-Based Education: What It Is, How It's Different, and Why It Matters to You
Do the Math: How a Competency-Based Education Can Lower College Tuition
Student Stories
How One Ambitious Student Saved $7,500 and Nine Months in His Very First UW Flexible Option Subscription Period
Why One Busy Nurse Chose the UW Flexible Option's RN to BSN Program
A Lifetime as a Computer Wiz, and Soon an Information Science and Technology Degree to Show for I