In February 2015, a study published in Nursing Economics found that the percentage of Bachelor of Science in Nursing (BSN) prepared nurses is increasing while the employment of associate degree nurses is decreasing. Plus, a 2010 report from the Institute of Medicine advised that, to meet the demand for care that will be created by healthcare reform, 80 percent of registered nurses will need to earn a bachelor's degree by 2020.
While pursuing a BSN seems like a smart choice, you may still have plenty of questions about the process. Here are answers to some of the questions we hear most often about the online UW Flexible Option RN to BSN program.
What will a BSN do for my career potential?
Depending on your current job situation, the benefits of earning your Bachelor of Science in Nursing can range from improved job security to the opportunity for career advancement and higher earning potential. The table below illustrates the higher unemployment rate for registered nurses holding an associate degree in nursing versus those holding a BSN over the span of a decade.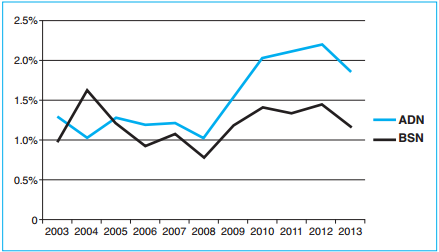 By earning your BSN, you're more likely to qualify for managerial roles such as:
Nurse manager
Nurse educator
Head nurse
Department chief
Administrative manager
Clinical nurse manager
Get a UW Flexible Option Degree Guide
Download an introductory guide (PDF) to the self-paced, competency-based UW Flexible Option programs, including details about costs, admission requirements, and more.
How will holding a BSN benefit my patients?
According to an American Association of Colleges of Nursing (AACN) report, medical establishments that employ a higher ratio of BSN-holding professionals report lower mortality rates, shorter hospital stays, and higher levels of patient satisfaction overall.
Is an RN to BSN program worth it financially?
Yes! Salary profile database Payscale notes that the median salary for a mid-level (five years' experience) nurse with a BSN is as much as $11,795 higher than the median salary for registered nurses with no advanced degree.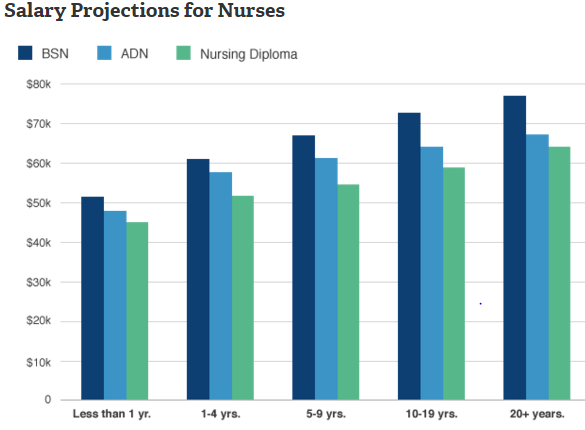 What are the goals of the UW Flexible Option RN to BSN program?
The program provides nurses licensed in Wisconsin with the skills and knowledge to deliver premium care in the ever-changing healthcare system. Led by the top-ranking University of Milwaukee College of Nursing, the program equips graduates with a deep understanding of biological and social sciences, community nursing, care management, leadership and management in nursing, healthcare technology, and research and evidence-based practice. All of the courses, called competency sets in UW Flexible Option, promote professional development in communication and critical thinking skills, and cultural awareness. The final competency set, a capstone experience, provides students with a real-world clinical experience in their own settings with application of core competencies to practice.
How many people are taking RN to BSN programs?
Between 2004 and 2012, enrollments in RN to BSN programs recognized by the AACN increased each year.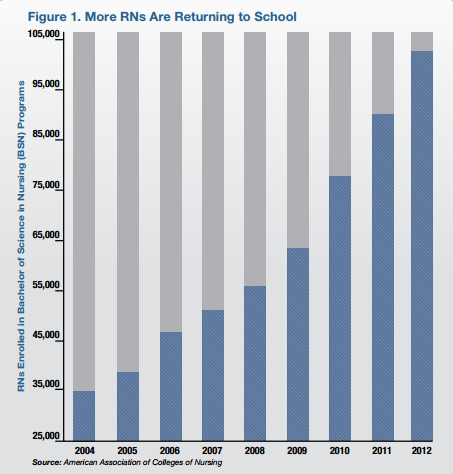 Do I qualify for the UW Flexible Option RN to BSN program?
The UW Flexible Option is especially designed for self-motivated, nontraditional students who want to leverage their previous schooling, work skills, and prior knowledge to advance more quickly toward their degree. This self-paced online nursing degree is ideal for students who:
Are licensed in Wisconsin or Illinois as a registered nurse
Have a cumulative GPA of 2.5 or higher and graduated from an associate degree program in nursing or diploma program in nursing
Are motivated, disciplined self-starters who can work independently
How much does the degree cost?
UW Flexible Option offers working adults a more affordable way to earn their BSN. Instead of paying by course or by credit, you pay a flat rate for a subscription period of your choice.
A subscription period is a three-month span of time during which you are able to access learning materials, complete assessments, and receive academic support. You can choose from two subscription options.
All-You-Can-Learn Option: Choosing this option allows you to enroll in two or more competency (skill) sets. You may enroll in as many competency sets as you can successfully master within a three-month period.
Single Competency Set Option: If you would like to study at a slower pace during a three-month subscription period, you may enroll in a single competency set.
| | | | |
| --- | --- | --- | --- |
| Subscription options | Term length | Tuition | Competency sets you can complete |
| All-You-Can-Learn | 3 months | $2,250 | 2 or more |
| Single Competency Set | 3 months | $900 | 1 |
Tuition covers assessments and mentoring, but excludes the cost of books and other special materials that may be required for your program.
How long is the program?
Like most other RN to BSN programs, the UW Flexible Option degree totals 120 credits consisting of:
Approximately 60 lower-division undergraduate courses (typically acquired through an associate degree)
30 upper-division nursing courses
30 credits derived from practical/clinical training and equivalency exams
For most traditional programs, this course load typically takes approximately two years to complete. In UW Flexible Option, your timeline is up to you, and you may be able to earn your degree sooner. Click here to read about one UW Flexible Option graduate who earned her BSN in under a year!
Can I pursue an RN to BSN while still working?
Generally, RN to BSN programs are designed for working, nontraditional students. By allowing students to work full- or part-time, programs can offer employer-based tuition reimbursement options, which can be a major consideration in students' decision to pursue further education.
That said, many online programs might still be difficult for full-time nurses. If you need more flexibility, look into a competency-based program like UW Flexible Option—they're online programs designed to fit into even the busiest of lifestyles. For example, there are no mandatory discussion posts required in the UW Flexible Option program. In addition, the program allows students to use previous schooling, work skills, and knowledge to advance through assessments at their own pace, which can result in a quicker path to earning their BSN.
If you think the UW Flexible Option RN to BSN program might be the right choice for your career, download the program info kit now!
To find out more about UW Flexible Option, contact an enrollment adviser at 1-877-895-3276 or learn@uwex.edu. For a list of degree and certificate programs offered in the online Flexible Option format, please see the programs page.