Whether it's on the job or at school, flexibility is a must-have for Abigail Sincoular, a nursing student in the 100 percent online University of Wisconsin-Milwaukee Bachelor of Science in Nursing (RN to BSN) program offered through UW Flexible Option. Abigail, who is slated to finish her degree in March 2024, is currently working as an urgent care nurse. The program's flexibility allowed her to take a two-month break to get married and buy a home while going to school.
Before starting her BSN, she completed a two-year associate degree in nursing (ADN) through a local technical college. Then, she was hired as an RN, where she worked in the ICU at  –the same facility in which she completed her student nurse internship.
While her job didn't require a BSN, she wanted to get it anyway. "That was always really important to me," she said. So she began researching programs. "I was concerned with cost and reputation and things like that as far as a BSN program goes," she said. "Then I came across the UW Flexible Option. I was really intrigued by doing it at your own pace and online, not at a specific scheduled class time like other schools and programs use."
At the time, Abigail was working the night shift and sleeping during the day. "I was worried about juggling that and then trying to attend a class or even just logging on for a certain class time. I personally don't think I'd be able to do a program that had set class times, just because there's so much going on. And work is so variable."
After applying to the UW Flexible Option program—which features subscription periods that begin every month—she was able to start almost immediately. "That was also another big draw to the program. A lot of typical programs, you apply, and then there's some waiting. And you're not able to start for a couple of months. So that was a big bonus."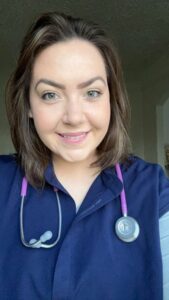 At first, Abigail was concerned that learning online would be challenging, especially since she was not accustomed to online learning as her ADN was completed in-person.
"I was a bit concerned [because] it's all at my own pace. Am I going to be struggling through it? I wasn't sure what to expect."
The UW Flexible Option RN to BSN offers support that Abigail was not accustomed to using, such as talking to a success coach. In her past program, "you had one, [but] it wasn't used very frequently," she said. In the UW Flexible Option program, she was paired with Amanda Murphy, a success coach at UW Extended Campus, right off the bat and who contacted her immediately to walk her through registration, classes, books, and more.
In addition to resource support, Amanda was also clear in her communication. Abigail remarks, "I have never felt in the dark with anything. I feel like everything is super clear and straightforward. And if I have any questions, she's always available or directs me to the person or area where I can go to get the answer. I love that. It made me feel very comfortable with everything."
Naturally, there were some challenges; especially while balancing school, work, and life. However, Abigail has no complaints. "It's been really good. I'm really glad this is the program I chose."
When she first started her BSN, she was working nights, and did coursework during the day. "I worked from 7 p.m. to 7 a.m. And then I would come home and sleep for a while during the day. So, I would typically work on schoolwork on my days off, really just whatever fits with my schedule, honestly, because as long as I had my assessments in and coursework in and it was graded, I was good to go. Theoretically, you can kind of map out your study time and time to work on stuff however it works best for you."
Later on, she moved to second shift. Now, Abigail studies in the morning, which means that she's able to finish up before heading to the hospital. Learning at her own pace has allowed Abigail to be on track to graduate in March 2024. That means she'll complete the program in about 22 months, including the two-month pause for her wedding. "I've never heard of any other school or program that lets you do that," she said. "That was a big plus for me."
With UW Flexible Option, students like Abigail are able to pause their subscription to courses as needed. Some students are able to work ahead on their coursework so they can get some time off to finish work projects, or take a break to repace, like travel nurse Erica Wildes.
BSN completion is a stepping stone toward future goals for many nurses. After finishing the program, Abigail plans to pursue nurse practitioner programs, and then hopefully teach within nursing. She says, "I never really thought about teaching before nursing school. But instructors and preceptors can really make or break your experience. I've been really lucky [to have some good role models in school and in practice]."
However, not all motivators were centered on a culture of nurturing and support for Abigail. She experienced situations in which others were not so helpful and even negative. "I think nursing can be such a supportive and empowering profession when we are there to help each other, especially new nurses. It wasn't until I went through some of those negative experiences that really made me think that I don't want other new nurses to feel like that. I want to be a positive influence to educate and support nursing students and new nurses."
Through experiences both in nursing practice and schooling, Abigail quickly adapted to her role in precepting and as a stat nurse, and realized how much she had learned in a short amount of time. "I was able to answer questions, help out and even pass on tips to new nurses that I had learned and worked well for me. I have always loved helping people, which is my obvious draw to nursing, but being able to teach nursing has been a big inspiration in my drive to continue my education."
Abigail's coursework in the UW Flexible Option program has also impacted her outlook on nursing, specifically in genetics. She's taking courses in palliative and chronic care, including end-of-life care. "We learned a lot about how genetics play into drug metabolism. Some people actually require a lot more of a drug because their body metabolizes it differently. I never really knew that going into nursing, and I thought that it was really interesting. It made me think about genetics in a lot more in-depth and how drug metabolism plays into pain, medication, and pain management."
What Abigail likes most about nursing is the flexibility and opportunity. "If you want to try something else, you can do that," she said. "I've known so many nurses who have moved and worked in a variety of areas."
Burnout is a real concern for many nurses. "I get the burnout. I started as a brand-new nurse in the ICU. It was really rough. But I like that you have options, and you have options to change your environment."
For other students considering the UW Flexible Option RN-BSN program, Abigail says:
"It's not this big scary thing that you have to be nervous about or be afraid of. It's very straightforward and easy to navigate, especially when you have the Success Coach or adviser to answer questions. The format of being able to do it when it works for you, your work schedule, and your life."
For more information about this program, contact an enrollment adviser.