According to the World Health Organization (WHO), more than one billion people—or about 15 percent of the world's population—have some form of disability. WHO also states that: "People with disability have less access to health care services and therefore experience unmet health care needs."
The 100% online UW-Milwaukee Bachelor of Science in Biomedical Sciences: Health Sciences program—offered through the UW Flexible Option—equips students to create solutions for challenges healthcare settings face, such as disability inclusion. This training comes from courses like TherRec202: Disability, Society, and the Person, which teaches students how to foster positive interactions with individuals who have disabilities.
A student favorite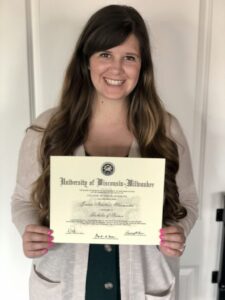 The TherRec202: Disability, Society, and the Person course is a favorite of many Health Sciences students, including Jordan Schumacher, the first graduate of the Health Sciences program.
"It strengthened my perspective and how I communicate with people who have different needs," Jordan said.
That is exactly what instructor Patricia Thomas hopes students take from this course.
"The students see that disability is more than a medical condition," she said. "They learn that they have the power to make significant changes for people living with a disability through many different avenues, whether that is decreased stigmas, education of work colleagues, advocacy, research, environmental changes, or other means."
Get a UW Flexible Option Degree Guide
Download an introductory guide (PDF) to the self-paced, competency-based UW Flexible Option programs, including details about costs, admission requirements, and more.
What will I learn in the course? 
In the TherRec202: Disability, Society, and the Person course, students demonstrate knowledge and application of core concepts related to persons with disabilities. This includes knowledge and skills related to stigma, person-centered terminology, and the International Classification of Functioning (ICF).
By the end of the course, you will be able to:
Understand and apply the major concepts of the social science discipline, including its breadth and relationship to other disciplines

Develop writing skills sensitive to the disability community of all ages

Discuss and assess the limitations of societal presentation of disability and the possibility of alternative interpretations

Apply critical thinking to information presented on the topic of disability, health, and wellness

Interact and work with people from diverse backgrounds and cultures with a greater understanding and appreciation of difference
What types of assignments will I complete?
UW Flexible Option courses are 100% online and competency-based, which allows students to progress through course materials at a pace they set during a 12-week subscription period. Students are provided access to all course resources at the start of the subscription period and will complete the assessments as they are able to.
The four assessments for this course are:
Film critique written assignment on

Finding Nemo

: Describe accurate portrayal of the characters in the movie. Most students describe this activity as an enjoyable way to also engage children at home.

Case study using person-centered terminology: Analyze and correct a sample newspaper article using person-centered language. This assignment showcases a student's ability to see a person beyond their disability.

Book reflection written assignment on

Gimp

by Mark Zupan and Tim Swanson: Compare and contrast the recovery journey of the main characters. Most students find this book enjoyable and gain an understanding of different types of recovery.

ICF Model of Disability written assignment: Relate this model to ableism and an overall holistic view of disability. Students gain awareness of viewing disability as a combination of body function, activity completion, and engagement in the community. 
"The course strengthened my perspective and how I communicate with people who have different needs." –  HS graduate Jordan Schumacher
Who is the instructor?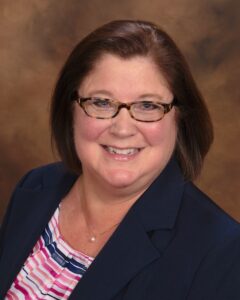 UW-Milwaukee Patricia Thomas is the instructor for this course. With nearly 20 years experience at the university, she currently serves as the director for the Occupational Science and Technology undergraduate degree program and is the coordinator for the Therapeutic Recreation certification program. She focuses on undergraduate education—especially in the online format— of therapeutic recreation, disability, and cultural diversity. She was recognized for her creative teaching with the UW-Milwaukee Academic Staff Outstanding Teaching Award in 2010.
Prior to joining UW-Milwaukee as a faculty member, she worked for the Department of Veteran Affairs in several different healthcare systems. She also has experience working with youth in several recreation agencies—with an emphasis on inclusion, promoting the right for people with and without disabilities to play together. 
Patricia earned her master's degree in Public Administration from Long Island University and her bachelor's degree in Recreation (with a therapeutic emphasis) from UW-La Crosse.
How much do I do in one week?
Students typically finish one or more assignments every 3 – 4 weeks, so there is time to receive feedback from the instructor on how to improve assignments. To keep up with this schedule, students should expect to spend an average of 9 hours per week on their coursework. However, given the self-paced and competency-based nature of the course, you can finish faster if you're able, or take more time if you need.
What kind of support will I receive?
Students have access to several support systems while completing this course. The Health Sciences Academic Success Coach, Jane Schimmel, serves as a student's point of contact for the program—guiding, supporting, and encouraging them along their journey. The instructor is a great resource for content clarification and feedback.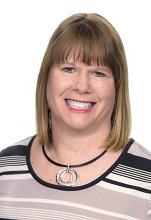 "Jane was involved with me and my education from the start," Health Sciences graduate Jordan said. "She would check in to see how I was doing with my courses or if I needed any support at all."
Key to success in the UW Flexible Option programs is a student's ability to be self-directed with the many resources they have available. All UW Flexible Option students are plugged into a wide variety of academic support through the Student Resource Center, including library access, tutoring options, a writing coach specifically for UW Flexible Option Students, and other writing support resources. 
Students in this course also have access to the UW-Milwaukee library resources, along with an exclusive library through UW-Milwaukee for the Health Sciences and Diagnostic Imaging programs, which includes information about how to find credible resources and cite sources correctly. This is helpful in strengthening assignments and developing critical thinking about disability and other topics.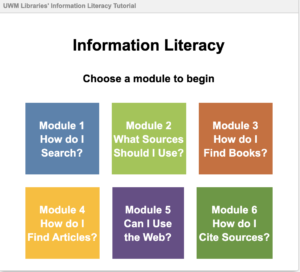 Have questions about TherRec202: Disability, Society, and the Person, or the online Bachelor of Science in Biomedical Sciences: Health Sciences program? Learn about our expert faculty, how to apply, and more. Enrollment advisers can help with all of your questions. Call 608-262-2011 or email flex@uwex.wisconsin.edu.