When Jordan Schumacher called an enrollment adviser to learn more about UW Flexible Option's online programs, she didn't know what to expect. Working as a physical therapist assistant at an outpatient clinic in Washington state, Jordan had a fully stacked schedule, and the idea of going back to school was daunting.
Her previous online learning experience wasn't ideal either. While she enjoyed the information she learned in the online BS in Nutrition program, the courses were structured like on-campus classes with inflexible deadlines, which didn't align with her full-time work. After completing a few courses, Jordan decided to take a break.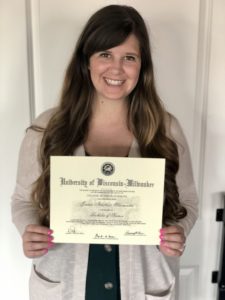 A couple years later, Jordan began researching online programs again. In her spreadsheet of contenders, the UW Flexible Option made the list.
"I had my first call with a UW Flex enrollment adviser, and it was phenomenal!" Jordan said. "I told her I wasn't looking to change my career, but that I wanted to finish my degree so I could have more options in my future. The enrollment adviser brought up the UW Flexible Option Health Sciences degree, and it literally sounded perfect for me."
Jordan was so blown away by her initial phone call that her program search ended. Ready to give online learning another go, she applied. Today, she is the first graduate of the 100% online UW-Milwaukee Bachelor of Sciences in Biomedical Sciences: Health Sciences degree offered through the UW Flexible Option.
Finding Her Online Learning Stride
Students in the UW Flexible Option Health Sciences program have the ability to learn when and where they choose. Progress is not limited by a traditional semester or term-based schedule, and students are allowed to take breaks throughout their studies as needed.
Through an innovative curriculum, students focus on mastering competencies and skills by completing projects and passing assessments assigned to specific health science areas such as nutrition, technical writing, human pathophysiology, professional development, and more. In this flexible format, students are able to expand upon and apply their current knowledge and previous education to progress more quickly through the program.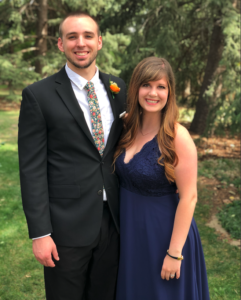 Upon graduation, students receive their bachelor's degree from the UW-Milwaukee College of Health Sciences, which is widely recognized by employers for offering the largest number of health-related degree programs in Wisconsin. The research conducted by the UW-Milwaukee College of Health Sciences faculty and staff encompasses groundbreaking urban and population studies, biomedical research, advances in movement science, rehabilitation research and development, applied clinical technologies, and disease-prevention approaches.

Students of the UW Flexible Option Health Sciences program are supported by UW-Milwaukee College of Health Sciences instructors who are active in their careers and have been recognized with professional and academic awards. 
RELATED: What Can You Do with a Health Sciences Degree?
While Jordan is the first to graduate from the Health Sciences program, she is among more than 300 UW Flexible Option graduates.
The UW Flexible Option Health Sciences program was "night and day" compared to Jordan's previous online education experience. With the "pay-as-you-go" option, she was able to accelerate her pace and complete assessments at a speed that worked with her job and responsibilities, not against them.
She started with the human pathophysiology courses, because she felt like she could find a balance of learning new concepts while applying her knowledge from working in physical therapy. To keep herself on track, Jordan created a calendar where she devoted specific times to finish assessments. This helped her see the big picture, all while feeling in control of her learning experience.
Two courses in particular, "Disability, Society, and the Person" and "Inclusive Disability," directly applied to Jordan's work, and she was able to use what she learned right away with her patients.
"I learned really beneficial information," Jordan said. "It strengthened my perspective and how I communicate with people who have different needs."
Get a UW Flexible Option Degree Guide
Download an introductory guide (PDF) to the self-paced, competency-based UW Flexible Option programs, including details about costs, admission requirements, and more.
Succeeding Through Support
Jordan learned she was the first graduate of the Health Sciences program from her Academic Success Coach, Jane Schimmel.
"It was kind of crazy," Jordan said. "I had no idea, and I was kind of emotional, to be honest!"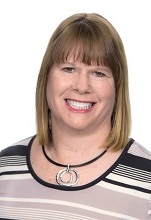 This accomplishment marked the conclusion of advising and support between Jordan and Jane. As an Academic Success Coach, Jane was Jordan's go-to person for questions, concerns, or to just touch base. The partnership is one that Jordan doesn't take lightly.
"Jane was involved with me and my education from the start," Jordan said. "She would check in to see how I was doing with my courses or if I needed any support at all. Sometimes a professor would email me and Jane about a grade I received, and Jane would reach out to say 'Oh my gosh, you are doing amazing!' She took the extra time to say that she noticed my hard work, which meant so much."
Jordan had a lot of concerns before starting the UW Flexible Option program. She was scared of the unknown about going back to school and constantly wondered if this time around would be different. However, all of her fears quickly dissipated thanks to the support she received and the freedom she had to make her experience her own.
"I think the best advice I could give to others who are scared to pick up the phone or to apply for the program is that you can make this program what you want it to be," Jordan said. "You can take it as slow or as fast as you need so that it doesn't overwhelm your life. I never knew a format like UW Flexible Option existed, but I'm so glad it does."
Paying it Forward for a Better Future
With her bachelor's degree now completed, Jordan feels accomplished, but she isn't ready to slow down. Now, she wants to switch up her focus. Instead of prioritizing her own learning, she is eager to help teach others—particularly the student interns who come through her workplace.
"My next goal is to find a way to teach in a physical therapist assistant program and to become more involved with the educational side of my work," Jordan said. "I have my degree and a job that I love, and now I am confident in branching out to other opportunities. The UW Flexible Option has been the best decision in the world for my life and career!"
Want to learn how the 100% online UW-Milwaukee Bachelor of Science in Health Sciences program, offered through the UW Flexible Option can help advance your career and education goals? Contact an enrollment adviser by calling 608-800-6762 or emailing flex@uwex.wisconsin.edu to get started.