Toward the end of her senior year of high school, Briana Martinez landed an exciting opportunity to freelance for a record label based in Miami, Florida. She couldn't pass it up. However, she soon realized how difficult it was to simultaneously work in the music industry while attending on-campus classes to earn her undergraduate degree.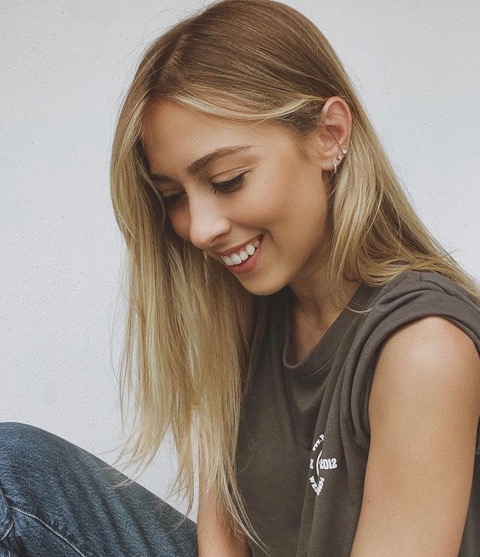 "I was traveling so much for the record label that getting my undergrad in person wasn't an option," Briana said. Frustrated, she decided to pause her studies and pour her efforts into work instead.
About four years later when most of her friends were graduating from college, Briana knew it was time to pursue her undergraduate degree again. This time, on her own terms. That's when she found the UW Flexible Option, which offers a variety of in-demand, 100% online University of Wisconsin degrees and certificates. 
With UW Flexible Option's innovative, competency-based education model, Briana learned she could earn her degree by leaning on her experience and knowledge, completing projects, and passing assessments—all at a personalized pace that fit her schedule. No live log-on times offered her much-needed flexibility, and because new courses start every month, Briana could take a break if she needed to without being set back an entire semester.
"It's affordable and completely online, which meant I could complete my degree faster," Briana said. "I was super happy to find the online programs. I'm the biggest cheerleader for the UW Flexible Option!"
Degree Programs Built for Real Life
Briana's UW Flexible Option journey began in 2018 when she enrolled in the UW-Milwaukee Associate of Arts and Sciences (AAS) program, completing it in nine months. It was extremely important to Briana to earn an accredited online undergraduate degree, so she held off on enrolling in the UW-Parkside Bachelor of Science in Business Administration (BSBA) program until Spring 2019 when it became fully accredited by the Association to Advance Collegiate Schools of Business International (AACSB)—the premier accrediting body for college-level business programs.
"It perfectly aligned that there was only about a month gap between earning my AAS and starting my BSBA," Briana said. "I had gathered a lot of motivation and momentum, so I was happy to keep moving forward."
Briana was determined to juggle a full-time job, freelancing for the record label, and completing coursework. Her days looked like this: Wake up at 6 a.m., drive an hour to work, work all day, get home around 6 p.m., spend the rest of the evening working on papers, repeat. When she was tired, she took some days off for herself. But for the most part, Briana kept pushing, strengthening her self-discipline, all with the goal to earn her BSBA in two years.
"I honestly don't think I would have been able to get my undergraduate degree if this program didn't exist," Briana said. "In a perfect world, I would have loved to do the standard experience of going to an on-campus college, but that wasn't my path. I got a good opportunity, and I ran with it!"
Get a UW Flexible Option Degree Guide
Download an introductory guide (PDF) to the self-paced, competency-based UW Flexible Option programs, including details about costs, admission requirements, and more.
Online, But Not Alone
Along with becoming a well-versed multitasker, Briana credits her time in the UW Flexible Option AAS and BSBA programs for her now "stronger-than-ever" writing skills. A lot of her coursework focused on research papers that challenged her to write clearly and succinctly on a variety of subjects. Compared to when she started in UW Flexible Option to now, Briana's writing has vastly improved, and she continues to use those skills every day in her job.
Although she sped through the program with unwavering determination, Briana will be the first to admit that sometimes she needed help: "I probably emailed every single one of my professors at one point," she said.
She received support during those challenging times—like when she didn't understand instructions for an assignment or she needed an accounting concept explained differently—from faculty members and her Success Coach, Ariel. 
"I want to hype up Dr. Suresh Chalasani, Professor Jill Halverson, Dr. Terry McGovern, and Ariel for always responding and helping me out when I needed them," Briana said. "They all made my life during this time so much easier."
Two Degrees Down, One More to Go
In June 2021, Briana graduated with her BSBA, becoming one of the first dozen graduates of the UW Flexible Option program. Today she works as an Executive Legal Assistant at a Los Angeles-based law firm. Next up on her to-do list? A degree in entertainment law. She is currently preparing for the LSAT and plans to start in a hybrid, American Bar Association (ABA) accredited law school program in August 2022. 
When asked to share advice for prospective students, Briana was quick to passionately recommend UW Flexible Option:
"The AAS and BSBA programs are made for people who are on the go and want to earn a degree in an affordable fashion," Briana said. "Just do it! If you're able to reorganize your schedule and prioritize time for your degree, it'll go by in a flash. UW Flexible Option is the way to go!"
—
Want to learn more about how the AACSB accredited, 100% online UW-Parkside Bachelor of Science in Business Administration through UW Flexible Option can help advance your career goals? Or, do you want to learn more about the UW-Milwaukee Associate of Arts and Sciences degree? Call 608-800-6762 or email flex@uwex.wisconsin.edu to get started.