Jeanette Williams knew she didn't have the time to jump head-first back into school, but that didn't stop her. Instead of finding a way to fit her busy life as a working mom into a program, she found an online degree that catered to her needs: the University of Wisconsin-Milwaukee Bachelor of Science in Nursing, which is offered through the UW Flexible Option. She took one course per subscription period online, completing her BSN in three years.
While her kids were young, Jeanette took nursing prerequisite courses part-time at UW-Parkside. After moving, she enrolled in an associate degree program in nursing at Blackhawk Technical College in Janesville, Wisconsin.
Upon completion of her associate degree, she took a job as a registered nurse at the Monroe Clinic Hospital. The hospital required her to enroll in a bachelor's in nursing degree program. Having completed prerequisite courses years before, Jeanette also felt motivated to finish her degree.
"I had already started a bachelor's program and felt like it was silly to not finish it," she said.
The program was a natural fit
The UW-Milwaukee BSN program came out on top as Jeanette was researching where to finish her degree. While she was drawn to the program's affordability, 100% online format, and 12-week subscription periods, she was thrilled that all of her prerequisite courses taken at UW-Parkside transferred.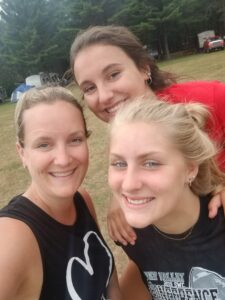 Even with years of experience in the field, Jeanette found the courses were engaging and relevant.
"I have heard other BSN-prepared nurses discuss their programs as 'busy work' or not learning much, if anything from them. I can happily say that this has not been the case with this program," she said. "I have learned a lot and have had the opportunity to apply new things to my work."
To manage her time, Jeanette looked ahead at her 12-week subscription period and scheduled when she would work on assignments in advance. Planning kept her accountable, while also ensuring she had time for family and friends.
Jeanette also had support built into the program. Blake Bishop, her Academic Success Coach, was always available to answer her questions and help in any capacity that he could: "He's very encouraging and was always asking about how my course was going and planning future classes," she said.
Get a UW Flexible Option Degree Guide
Download an introductory guide (PDF) to the self-paced, competency-based UW Flexible Option programs, including details about costs, admission requirements, and more.
A bridge to graduate school and beyond
The courses helped Jeanette refine her healthcare interests: "When I started [the program], I was thinking about going into public health nursing," she said "I took the public health class and decided it was absolutely not for me."
Instead, she shifted her focus to mental health. While in her associate degree program, Jeanette was introduced to mental health topics and enjoyed the courses, but got the opportunity to dive deeper into the topic during NURS 448: Mental Health Nursing Across the Care Continuum, an elective course in the BSN program.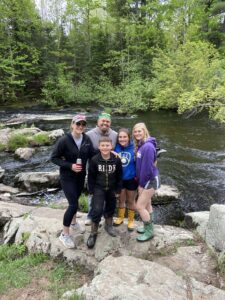 Seeing the opportunities and increased needs in the mental health field, Jeanette now has her eyes set on a psychiatry graduate program.
"It's just nice to finally have my bachelor's degree done and then to have the option of being able to go back to do what I really want to do ultimately," she said.
Spreading the word
Jeanette loved the UW Flexible Option BSN program so much that she recommends it to coworkers who also need to complete their bachelor's degrees.
"I've prompted at least four or five nurses that I work with to enroll in the program," she said.  "It is a rock-solid program in my personal experience."
Ready to enroll in the UW Flexible Option Bachelor of Science in Nursing program? Our enrollment advisers are available to answer any questions you have. Call 608-800-6762 or email flex@uwex.wisconsin.edu.