Jill Saxton has seen her nursing career come full circle – from the moment she started out as a CNA to earning her nurse practitioner degree and becoming an instructor at the University of Wisconsin Milwaukee RN-to-BSN program offered through UW Flexible Option to shape the next generation. For Jill, the center of this circle has always been fulfillment through helping others.
Jill started her nursing career right out of high school. She took a job as a CNA at a nursing home when she was 18. Unlike the monotony one may experience at some entry-level jobs in nursing or other fields, Jill found that caring for nursing home patients didn't actually feel like work.
Quite simply: "People needed help and I was able to help them," she says. "That gave me fulfillment."
After realizing that nursing was her passion, she completed her associate degree (ADN) in 1992 and began working in patient care. Just over a decade later, her employer was purchased by another entity, and started offering tuition reimbursement as an employee benefit. Jill saw this as an opportunity to earn her bachelor's degree, so she began searching for RN-BSN educational programs and landed on the online BSN@Home choosing UW-Milwaukee as her home campus.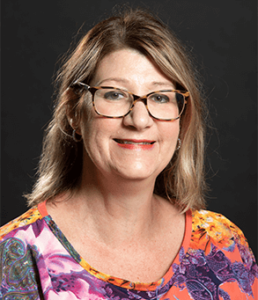 "I really liked the online learning environment and doing things on my time," she says. Though she was working full-time as a nurse while completing the program, she was able to have a life outside of work and school.
While she was in nursing school, Jill came across a report from the National Academy of Sciences about the future of nursing, which said that nurses should achieve higher levels of education and training, including different types of leadership and management. This was a much different message than what she'd gotten while completing her associate degree, which was mostly focused on direct patient care and completing care tasks. Ultimately, her experience in BSN@Home encouraged her to think beyond direct patient care by giving her a more comprehensive look at nursing care as a whole.
"I learned to anticipate things and help others," she says. "It was more about the full concepts of nursing, how to work with others in the field, and it gave me more exposure to public health."
Shortly after completing her BSN, she met a nursing educator who was getting her master's degree in nursing. Fully embracing the NAS report urging nurses to engage in lifelong learning, she was inspired to do the same and earned her MSN from UW-Oshkosh in 2018. That fall, Jill was working in nurse management and heard that UW-Milwaukee still needed instructors for its nursing program. She got hired and is now an instructor for the UW Flexible Option RN-to-BSN program. She has also since earned her nurse practitioner (NP) degree.
Jill teaches NURS 317X: Health Assessment and NURS 453X: Informatics for UW Flexible Option.
"I can relate to the students because I did that same kind of work, and I did it at home on my own time. I can help them figure out ways to get those classes and studying in and still have a life outside of it," she says.
Jill enjoys being an instructor because, like all nurses, she's an advocate for patient care and loves working with students to help them learn how to give the same terrific care. The nursing courses she teaches are challenging, "but that's because we have people's lives in our hands," she says. "After giving 20 good years of nursing I had a lot to share from my own experiences."
Nursing educators can give their students evidence-based education to help them thrive while still maintaining a compassionate side of nursing.
"You want to put your own family in the case of our patients – how would you want them to be treated? You need to convey that, and hopefully help [students] gain those qualities. As educators, you are role models, and you get that fulfillment out of helping more students become nurses."
The one piece of advice Jill gives students wondering if they can work full-time while going to school and enjoying life, is to set a schedule. Set one day of the week as your education day, and let your family and friends know what your schedule is and keep it consistent. "Whatever day you pick, that's the day you spend on your education. Then you have the other days to see family and friends and enjoy life outside of school."
While nursing has been a satisfying career in many ways for Jill, a severe workforce shortage in nursing and healthcare is here. According to the Wisconsin Hospital Association, the gap between new hires and job openings doubled from one million at the end of 2021 to two million at the end of 2022. There are also shortages of nursing instructors, and with the average age of an RN being 52, another retirement wave is coming, according to the National Nursing Workforce Survey.
Jill encourages those interested in helping others to consider a career in nursing and become a nursing educator. One of the greatest things about nursing, according to Jill, is that there are so many job options and ways to make a difference, whether it's in direct patient care or helping others learn the vocation of nursing. There are also nurse management jobs, where you can "work for your workers" Jill says, helping with things like scheduling and administrative work. Not all nursing jobs require working directly with patients – and you can move around to other positions since there are so many openings.
"Even if you're not doing the direct care, there's so many ways that we can gain fulfillment in our career versus just going in and punching a clock 9 to 5. There are many jobs that don't use medical skills."
Nurses are also often voted year after year to be among the most trustworthy professionals. To be a good nurse, you need strong communication skills, the ability to think critically and have empathy to care for others. Nurses also need lifelong learning skills and leadership skills for managing teams of technicians and aides, and teaching their own patients about health, Jill notes.
Nursing is a challenging field, no doubt – from the physical aspects of lifting patients and doing manual tasks to dealing with patients and staff, but this is "probably true of any career," Jill says. Right now, the nursing shortage most healthcare facilities are experiencing is due to short staffing and changing technology. But at the same time, there are a lot of opportunities in nursing, great flexibility, and the ability to earn a good salary.
"If you're in one job that's not giving you all you need, you can find another one that fits you better," Jill says.
For more information about UW Flexible Option, you can contact an enrollment adviser or visit our website for more information.