Returning to school to earn a degree can be intimidating. You may be wondering how you'll fit classes into your busy schedule, how you'll be able to afford a degree, or how to narrow down your interests to one program.
An associate degree program can serve as a bridge to a bachelor's degree in many ways. An associate degree allows you to complete general education requirements, fine-tune your interests, and—perhaps most importantly—gain confidence in your ability to be successful in an educational program.
What is an associate degree?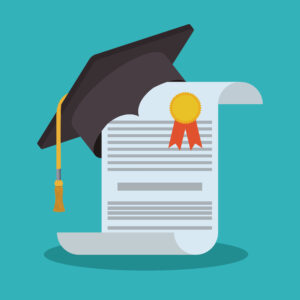 An associate degree is an educational credential between a high school diploma or GED certificate and a bachelor's degree. On average, associate programs are 60 credits and take 2-3 years to complete. The degree is focused on equipping you with foundational knowledge and skills—such as critical thinking, oral and written communication, and resourcefulness. These skills, among so many others across the liberal arts, will prepare you  to be successful in your next steps, whether that's a bachelor's degree or employment.
What is a liberal arts associate degree?
There are several different types of associate degree programs to choose from, including those that are career-specific and those that are based in the liberal arts. A liberal arts associate degree, such as an Associate of Arts and Sciences degree, is broad in its material. The liberal arts are those skills and attributes that describe the opening of the mind and the independence that comes with critical thinking, creativity, and self-sufficiency. The program does not focus on a particular subject area. Instead, it focuses on general education concepts so you have exposure to a wide variety of areas like English, psychology, biology, history, and music.
Get a UW Flexible Option Degree Guide
Download an introductory guide (PDF) to the self-paced, competency-based UW Flexible Option programs, including details about costs, admission requirements, and more.
See if college is the right fit for you
Completing an associate degree can make the transition to a bachelor's degree program feel less daunting. You'll get a feel for courses and figure out the best way to fit them into your schedule. You'll also learn to navigate course registration, financial aid, and support services—all skills needed in bachelor's programs. 
An associate degree is completed in a much shorter time than a bachelor's, making the transition seem more attainable. An educational program takes time and commitment, and you can get a glimpse into what a bachelor's degree schedule would look like for you while completing your associate degree.
Fine tune your interests, earn transferable credits
Maybe you haven't decided which bachelor's degree major you'd like to pursue yet, and that's ok. A liberal arts associate degree program features a wide range of topics, including courses in English, arts and humanities, computing, math, natural science, and social science, among many more.
Completing an associate degree can make the transition to a bachelor's degree program feel less daunting.
Courses in a liberal arts associate degree program are often transferable to four-year institutions to fulfill general education credits, which primarily make up the first two years in most bachelor's degree programs. For example, all credits earned from the online UW-Milwaukee Associate of Arts and Sciences (AAS) degree offered through UW Flexible Option are fully transferable to all University of Wisconsin campuses, including UW-Madison. Your associate degree lays the foundation for more than 200 bachelor degree majors, giving you a wide variety of subjects to choose from. 
With your associate degree fulfilling your general education courses, you'll be ready to take the courses you are truly interested in when you start your bachelor's program. 
Earn an affordable associate degree, on your schedule
The UW-Milwaukee AAS degree offered through the UW Flexible Option is competency-based and self-paced, allowing you to move through courses as quickly or slowly  as you feel comfortable. There are no rigid course schedules or academic deadlines. Instead, you complete assessments to prove you've mastered the material whenever you're ready and able. If you are struggling with a concept, you can take the extra time you need to study it without the pressure of a looming exam deadline.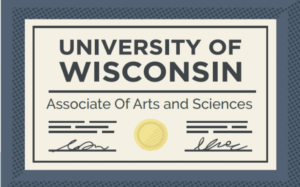 The UW Flexible Option provides you an affordable opportunity to earn a UW-Milwaukee Associate of Arts and Science degree. UW Flexible Option programs feature flat rate tuition. You take as many online classes as you are able in a 12-week subscription period for a single cost with our  "All-You-Can-Learn" option. Since it is a flat rate, the more courses you take in a subscription period, the lower your cost-per-class becomes and—better yet—the quicker you graduate. There are no segregated fees beyond tuition, saving you even more money.
Not only is your tuition set low, it will also stay low. Your tuition won't increase, no matter how long it takes you to complete the program. That's the Flex Tuition Guarantee. 
Supported, always
Even though you move through your UW Flexible Option program independently, you are not alone. When you begin, you're paired with an Academic Success Coach who serves as your main go-to person as you move through the program. Your coach is your mentor and adviser, ready to help you earn your associate degree. Your coach will answer questions, offer advice, and connect you with any resources you may need.
You can also expect to get to know your instructors. They are available for any academic questions you have about the content, and can help point you in the right direction for academic resources.
A smooth transition to an online bachelor's degree program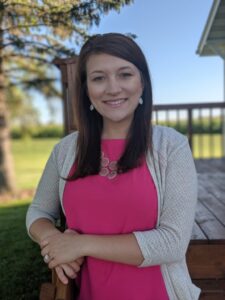 If you find that you enjoy the flexibility online learning provides, you can choose to pursue your bachelor's degree through other UW Flexible Option programs. Katie Limberg earned her Associate of Arts & Sciences through the UW Flexible Option in 2017, and is now enrolled in the UW Health and Wellness Management bachelor's degree program.
"Having gone through UW Flex was a huge benefit to me," Katie said. "I learned how to navigate online coursework and work out a schedule that I really thrived in, and I was able to take that experience into the UW Health and Wellness Management program."
Are you ready to jumpstart your educational journey to a bachelor's degree? Call an enrollment advisor at 608-800-6762 or email flex@uwex.wisconsin.edu.
*Note: If you prefer a more structured schedule, UW Extended Campus also offers a semester-based associate degree program. Read this helpful guide on choosing which online format may be best for you.