You're a self-motivated learner with some college credit but need a flexible way to earn a degree in order to take that next step in your career—in the business world or up the corporate ladder. A Bachelor of Science in Business Administration (BSBA) prepares graduates for a wide range of positions in finance, management, marketing, human resources, and more. In general, BSBA graduates use their degree to advance their career, make a career change, or as a stepping stone to a graduate degree—like an MBA.
What is Business Administration?
With a BSBA degree, you will learn fundamental business administration skills that are applicable to nearly every career field. A well-rounded BSBA program focuses on both hard and soft skill sets that expose students to real-world problem solving, interpersonal communication, operational functions, financial tools, and critical and systems thinking principles.
Overall, a BSBA degree builds a strong foundation of professional skills that employers from nearly every industry look for in strong job candidates.
Get a UW Flexible Option Degree Guide
Download an introductory guide (PDF) to the self-paced, competency-based UW Flexible Option programs, including details about costs, admission requirements, and more.
Business Administration Jobs and Career Paths
The following job titles and median salaries reflect the common roles BSBA graduates are qualified for:
Possible Job Titles**
Median Salary*

Office and Administrative Support




First Line Supervisor

$55,057

Plant and Systems Operator

$56,326

Production and Operating First Line Supervisor

$58,884

Self-Employed Business or Financial Operations

$61,131

Management Analyst

$82,451

Administrative Service Manager

$94,016

General and Operations Manager

$100,401

Industrial Production Manager

$100,588

Purchasing Manager

$115,752

Sales Manager

$121,056

Marketing Manager

$132,225

Medical and Health Services Manager

$96,622

Human Resources Manager

$106,703

Accountant

$67,494

Computer and Information Systems Manager

$138,060

Construction Manager

$66,133
*Source Emsi 2019.1
**Some positions may require additional training for continued advancement
Stacy Prodell is a great example of where a BSBA degree can take you. She is a graduate of the University of Wisconsin-Parkside's BSBA degree—offered through the UW Flexible Option. When Stacy was promoted from dental assistant to dental office manager, she knew she had to step up to her new role, which meant going back to school. 
Right away, Stacy was able to put her coursework into action—using supply and demand models, team management skills, and a critical eye for bottlenecks in her offices' processes. Now as a BSBA graduate, Stacy has been given more dental offices to manage and feels confident not only to take on her career but to also succeed.
Where Business Administration Majors Work
The strength of a BSBA degree is that it prepares you for roles in virtually every industry. Equally, if you are looking to make a career change, a BSBA degree can be the starting point of making that jump.
Rounding out the top two industries that employ BSBA graduates are 1.) corporate, subsidiary, and regional managing offices and 2.) commercial banking:

Business Administration Careers Outlook
If you are  wondering how likely you will secure a job as a BSBA graduate, regional and state hiring trends suggest an optimistic future. According to 2019 Emsi data, over the next decade the midwest region is predicted to see a 9.5% increase in demand for BSBA job titles. The same BSBA jobs are expected to experience a 6.8% demand growth nationally. Across the country, California, Texas, New York, Florida, and Illinois will see the highest increase in BSBA job demand: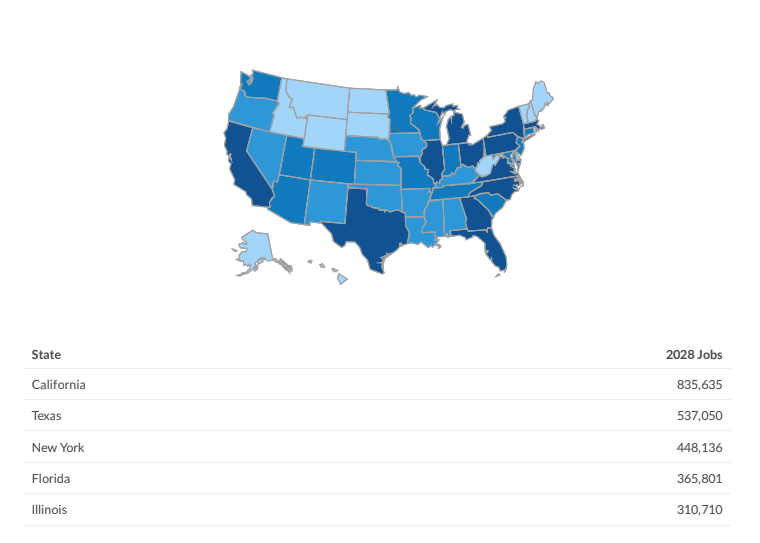 Of the 655,348 active job postings across the country, only 307,982 professionals are hired, according to 2019 Emsi data. This means there is approximately one hire for every two active job postings—which suggests employers are struggling to find qualified BSBA graduates to fill roles. As a result, with a well-rounded BSBA degree, you have an increased opportunity to catch the attention of a variety of hiring managers
Top Skills in a Business Administration Career
To stand out to employers, you will need a combination of hard and soft skills that highlight your ability to be a team player and your understanding of technical and business operations.
According to 2020 Emsi data, the top skills employers are looking for when hiring BSBA graduates include operations, management, and communications: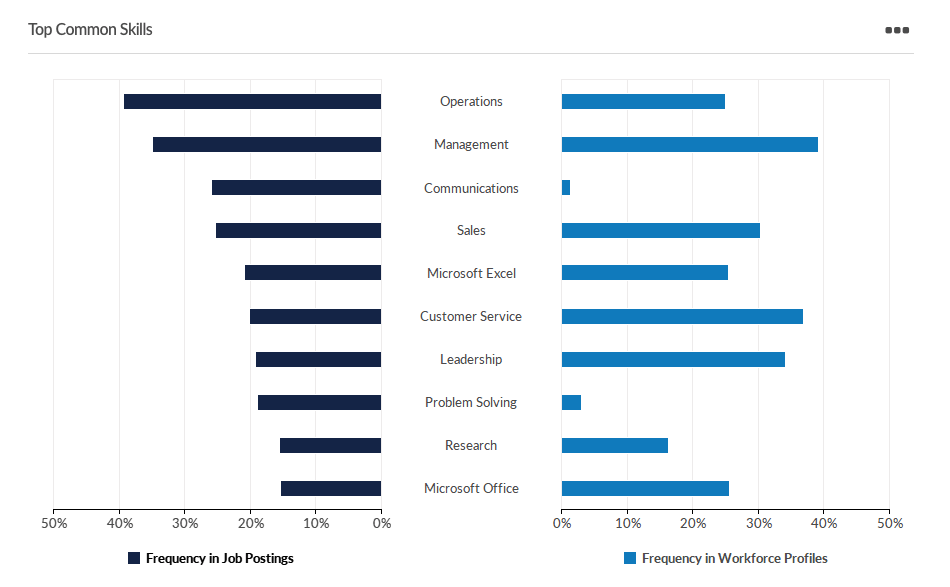 An Online Business Administration Degree at Your Own Pace
Accredited through the Higher Learning Commission (HLC) and the Association to Advance Collegiate Schools of Business International (AACSB)—the leading business accrediting body in the world—the University of Wisconsin-Parkside Bachelor of Science in Business Administration degree offered through UW Flexible Option, features a project-based curriculum that establishes graduates who are equipped to succeed in the fast-paced world of business.
Offered 100% online, you will progress toward your degree at your own pace by demonstrating mastery of applicable skills and knowledge. Graduates of the program will be positioned for a variety of roles through the skillsets they learn and strengthen. At a glance, the program will prepare you to:
Apply financial tools and techniques to meet organizational objectives

Evaluate scenarios that impact an organization and respond using diverse communication strategies

Employ critical and systems thinking principles to create an integrated multi-functional strategy to meet organizational objectives
Explore the UW Flexible Option Bachelor of Science in Business Administration curriculum, tuition, and admissions process.