You're an experienced professional with an associate degree, but now you need a bachelor's degree. A Bachelor of Science in Biomedical Science: Health Sciences prepares you to assume a wide range of roles within both clinical and non-clinical settings, such as medical lab technologist, claims reviewer, and healthcare administrator.
In general, students earn a health sciences degree to:
Advance their current healthcare careers to the next level

Change jobs or industries

Prepare for graduate or professional programs, such as chiropractic programs, physical or occupational therapy, healthcare informatics, athletic training, or healthcare administration
What Is Health Science?
Health science is the application of science to health including the study of medicine, nutrition, and other health-related topics.
A bachelor's degree in health sciences provides essential healthcare knowledge and skills while building professional skills sought by healthcare employers, such as critical thinking, problem solving, leadership, information literacy, and information management.
Health Sciences Jobs and Career Paths
Positions in the health sciences range from clinical work with frequent patient contact to office work at private corporations. Because healthcare is such a diverse field, health sciences graduates have the ability to move both laterally and upward as career interests and goals change.
If you are interested in a health sciences bachelor's degree, you might be a…

Cardiovascular technician
Anesthesia technician
Dental hygienist
Occupational therapy assistant
Physical therapy assistant
Respiratory therapist
Surgical technician
Registered health information technician
Biomedical equipment technician
Medical lab technician
Cancer registrar
EKG technologist
Audiology technician
Pharmacy technician
Paramedic
Veterinary technician
Radiation therapist
Medical assistant
…who wants to pursue…
Get a UW Flexible Option Degree Guide
Download an introductory guide (PDF) to the self-paced, competency-based UW Flexible Option programs, including details about costs, admission requirements, and more.
1. Non-clinical healthcare jobs
Health sciences graduates can pursue non-clinical positions that require an in-depth understanding of clinical work or the healthcare field as a whole. These roles are usually classified as leadership or administrative positions and sometimes involve coordinating, supervising, or training others. Because of this, you will likely need a bachelor's degree to be considered for them.
| | | |
| --- | --- | --- |
| Health science job | Job description | Average salary |
| Medical and health services managers | Plan, direct, or coordinate medical and health services in hospitals, clinics, managed care organizations, public health agencies, or similar organizations. | $101,340 |
| Claims reviewer | Review health-related claims to see whether the costs are reasonable and authorize appropriate payment, deny the claim, or refer the claim to an investigator. | $64,710 |
| Health education specialist | Teach people about behaviors that promote wellness and develop and implement strategies to improve the health of individuals and communities. | $48,860 |
| Medical equipment / pharmaceutical sales representative | Sell medical equipment or pharmaceuticals for wholesalers or manufacturers. | $62,890 |
| Community health specialist | Collect data and discuss health concerns with members of specific populations or communities. | $47,780 |
Source: U.S. Bureau of Labor Statistics
2. Graduate or professional school programs

 
The reason many students earn a health sciences bachelor's degree is to begin preparing for a graduate or professional school program.  
According to 2022 data from the Association of American Medical Colleges, a specialized health sciences degree was one of the seven most common types of undergraduate degrees earned before starting medical school. (Additional coursework may be required for admission to graduate or professional programs).
| | | |
| --- | --- | --- |
| Health science job | Job description | Average salary |
| Occupational therapist | Help patients develop, recover, improve, and maintain the skills needed for daily living and working. | $85,570 |
| Physical therapist | Help injured or ill people improve their movement and manage their pain. | $95,620 |
| Prosthetics-orthotics specialist | Design, measure, fit, and adapt orthopedic braces, appliances, or prostheses. | $75,440 |
| Speech language pathologist | Assess, diagnose, treat, and help to prevent communication and swallowing disorders in children and adults. | $79,060 |
| Pharmacist | Dispense prescription medications to patients and offer expertise in the safe use of prescriptions. | $128,570 |
| Dentist | Diagnose and treat problems with patients' teeth, gums, and related parts of the mouth. | $163,220 |
| Audiologist | Diagnose, manage, and treat a patient's hearing, balance, or ear problems. | $78,950 |
| Physician assistant | Examine, diagnose, and treat patients on teams with physicians, surgeons, and other healthcare workers. | $121,530 |
| Healthcare social workers | Provide individuals, families, and groups with the psychosocial support needed to cope with chronic, acute, or terminal illnesses. | $62,310 |
| Chiropractor | Treat patients with health problems of the neuromusculoskeletal system. | $75,000 |
Source: U.S. Bureau of Labor Statistics
Where Health Sciences Majors Work
Today, healthcare is one of the most diverse employment fields. As a health sciences graduate, you could work in many different settings or organizations, such as:
Hospitals, clinics, physicians' offices, or other patient care facilities

Medical laboratories

Pharmaceutical companies

Manufacturing companies

Federal or state government

Private agencies

Consulting firms

Insurance companies

Nonprofit organizations
Health Sciences Careers Outlook
Employment in the healthcare sector has been growing steadily for years, even during the most recent recession. This upward trend in employment is set to continue over the next decade. The American population is getting older, living longer, and seeking out more treatment for chronic conditions.
As a result, the healthcare field will continue to see increased demand for medical services—and medical personnel. According to the Bureau of Labor Statistics, healthcare support occupations, healthcare practitioners, and technical occupations are expected to generate 2 million new jobs through 2031—faster employment growth than any other field.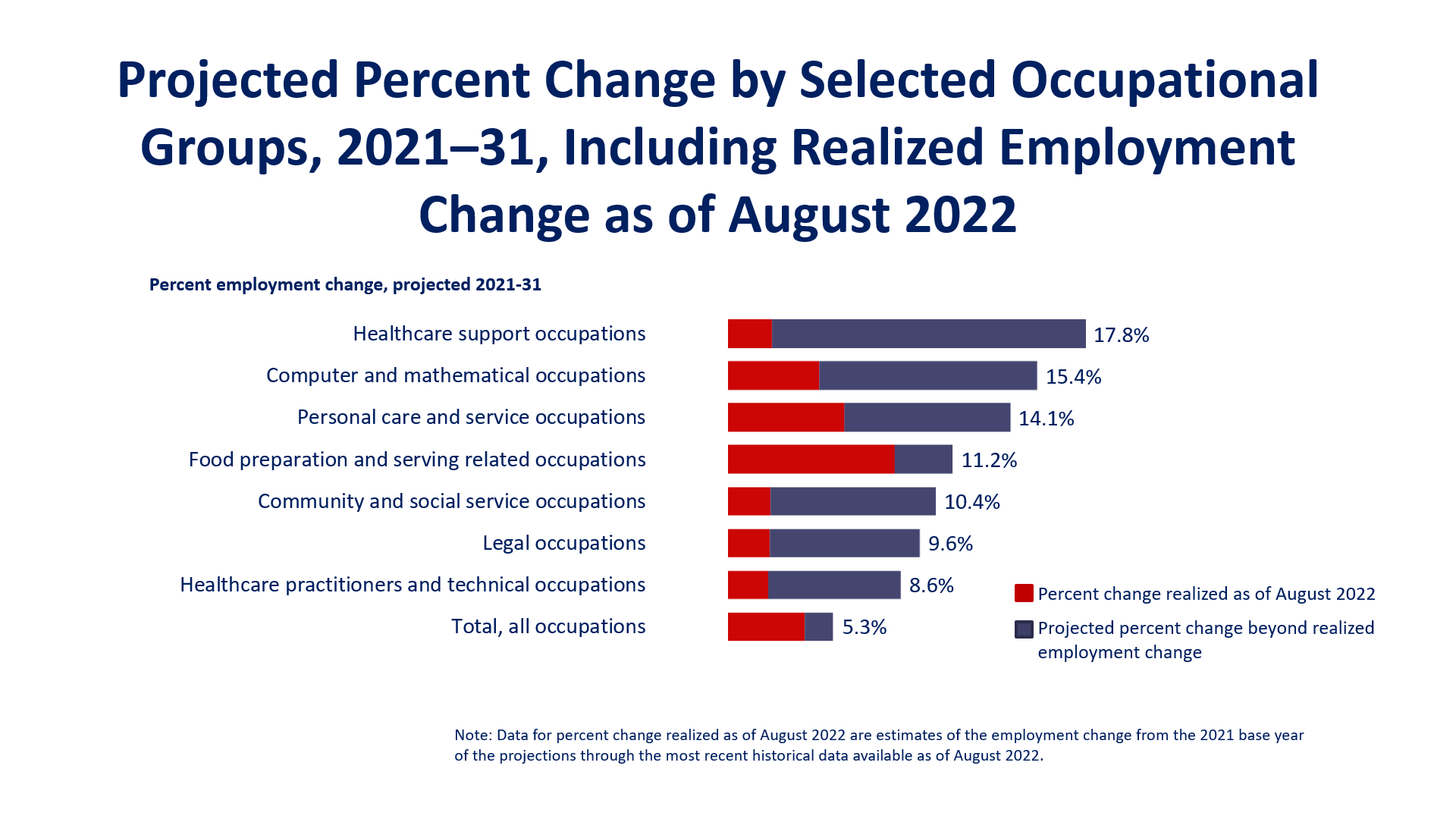 Healthcare administrators are already scrambling to fill jobs across a wide range of positions. In light of this high demand, credentialed healthcare professionals will be especially well-positioned for career advancement.
An Online Health Sciences Degree At Your Own Pace
Think you don't have time to earn a health sciences degree? Through the University of Wisconsin Flexible Option, you can earn a UW-Milwaukee Bachelor of Science in Biomedical Sciences: Health Sciences in an online, self-paced format that fits any schedule. As a UW Flexible Option student, you can start any month and learn at your own pace—as well as leverage your existing technical education and clinical experience to help you progress toward graduation more quickly.
Learn more about the UW Flexible Option Bachelor of Science in Biomedical Sciences: Health Sciences below:
To be considered for admission to this program, you must have completed an associate degree.