Earning a business degree continues to be a reliable pathway to success across many industry sectors. In fact, a 2020 report found that a bachelor's in business administration (BSBA) was the fourth most in-demand degree, beating out engineering and information sciences. The popularity of a BSBA degree may be surprising given its general nature. With so many different types of degrees, certificates, specializations, and credentials to choose from, what makes business administration a top choice?
1. A business administration degree leads to greater job security
According to the U.S. Bureau of Labor Statistics, employment in business and financial occupations is projected to grow by 5 percent from 2019 to 2029. This outlook predicts the creation of approximately 476,000 new jobs. Simply put: Earning a bachelor's in business administration better qualifies you for these job opportunities.
Earning a bachelor's degree—like the 100% online University of Wisconsin-Parkside Bachelor of Science in Business Administration, offered through UW Flexible Option—leads to greater job security. The Education Pays 2019: The Benefits of Higher Education for Individuals and Society report shows that adults 25 years old and older with a bachelor's degree have a 50 percent lower unemployment rate than those in the same age group with only a high school diploma. 
Get a UW Flexible Option Degree Guide
Download an introductory guide (PDF) to the self-paced, competency-based UW Flexible Option programs, including details about costs, admission requirements, and more.
2. Business administration graduates hold administrator and managerial roles across various industries
Business administration graduates gain and strengthen broad skills that are crucial in running all elements of a business—marketing, sales, operations, finance, etc.—that apply to many different types of organizations and industries. This includes, but is not limited to:

Problem solving

Interpersonal communication

Operational functions

Financial tools

Systems thinking principles
A well-rounded business administration degree program prepares graduates to land and succeed in roles, such as: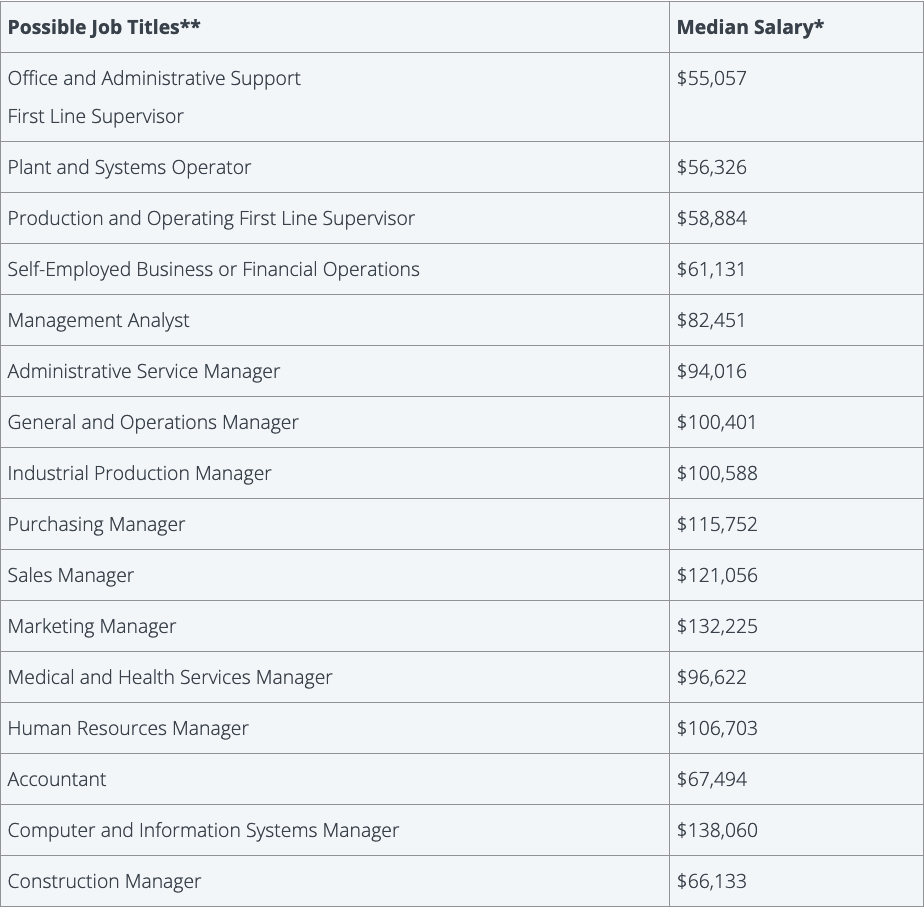 *Source: Emsi 2019.1
**Some positions may require additional training for continued advancement
In addition to the above job titles, business administration degree-holders may also pursue an entrepreneurial path and decide to start their own businesses.
RELATED: What Can You Do with a Business Administration Degree?
3. A bachelor's-level business degree increases your earning potential
As reported in 2019 by the U.S. Bureau of Labor Statistics, the median annual wage for bachelor's degree-level business and financial occupations was $69,820. This median annual wage is approximately $30,000 greater than all other occupations. 
Across gender, race, and ethnicity, it is clear that earning a bachelor's degree is one reliable way to ensure higher pay. In the Education Pays 2019: The Benefits of Higher Education for Individuals and Society report, all surveyed individuals reported a correlation between earning more and the level of education they completed.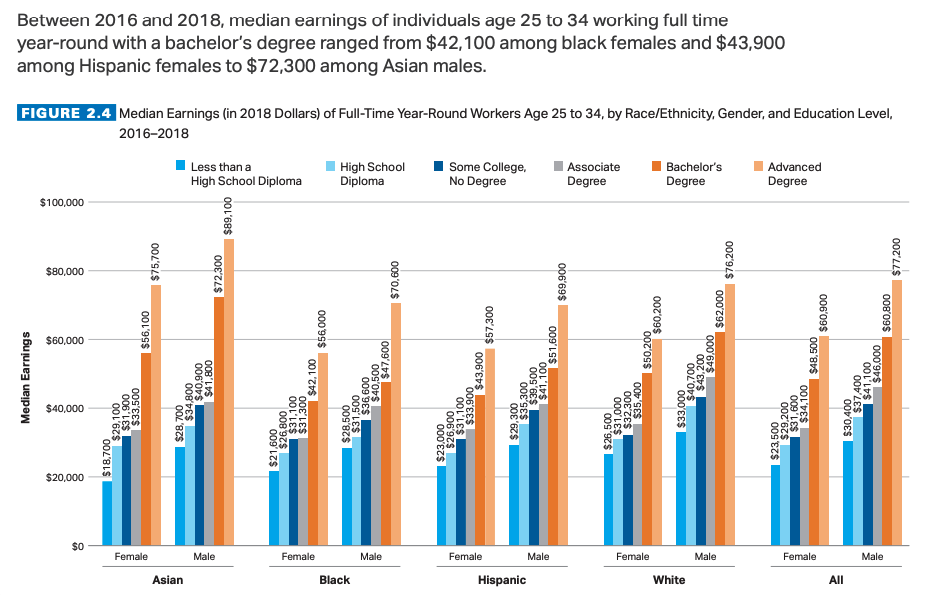 Source: Education Pays 2019: The Benefits of Higher Education for Individuals and Society
4. Employers are looking for candidates with a bachelor's-level business degree
While there are many business-focused educational opportunities offered through massive open online courses (MOOCs), such as LinkedIn Learning, Coursera, edX, Udemy, and others, these credentials are not the same as earning a bachelor's degree.
To make the hiring process more efficient, employers use artificial intelligence (AI) plugins to quickly scan resumes for specific education. If you don't have a required bachelor's-level business degree, no amount of MOOCs or certifications can prevent your resume from being swiftly rejected. 
While there are certainly some who argue that you don't need a business degree to advance your career, at the end of the day, most employers are still looking for degree-holders. This is because it not only matters what you learn, but also who you learn from. Expert faculty and industry leaders within business degree programs, such as the 100% online UW-Parkside Bachelor of Science in Business Administration, provide insightful instruction and feedback on your work, which isn't the case for other online credential options.
5. You don't have to put your career on hold to earn a business administration degree
Online learning is now the norm. According to the National Center for Education Statistics, from fall 2012 to 2018, colleges that offered distance education (DE) courses and/or programs experienced a 29 percent increase in enrollment (from 5.4 million to 6.9 million). With the global COVID-19 pandemic pushing all levels of education to adapt through online, virtual learning, the market is only expected to grow.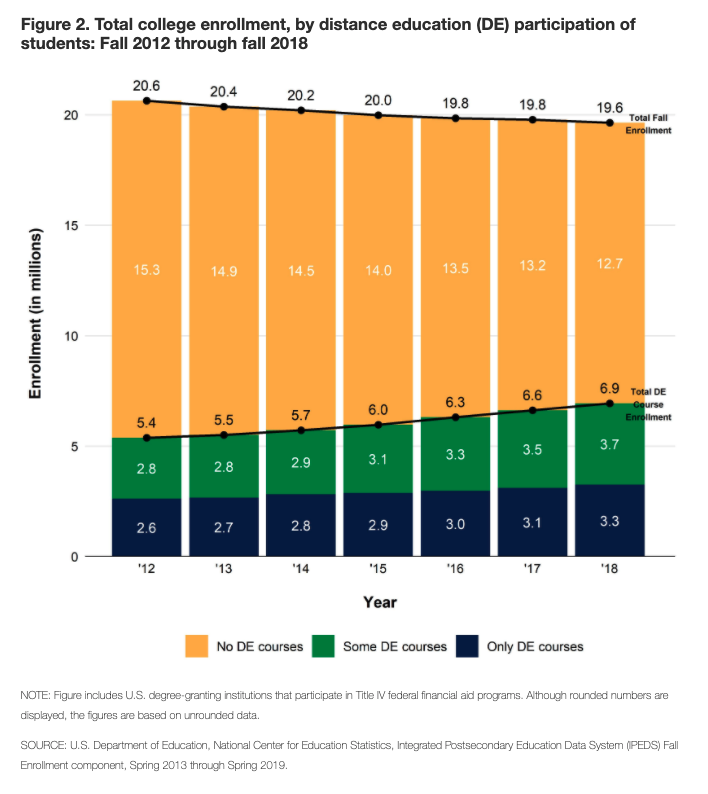 The 100% online UW-Parkside Bachelor of Science in Business Administration is rooted in the online education space. In fact, the program has been around for five years, and its faculty is made up of UW System instructors who are experienced in teaching online and connecting with adult learners' specific needs.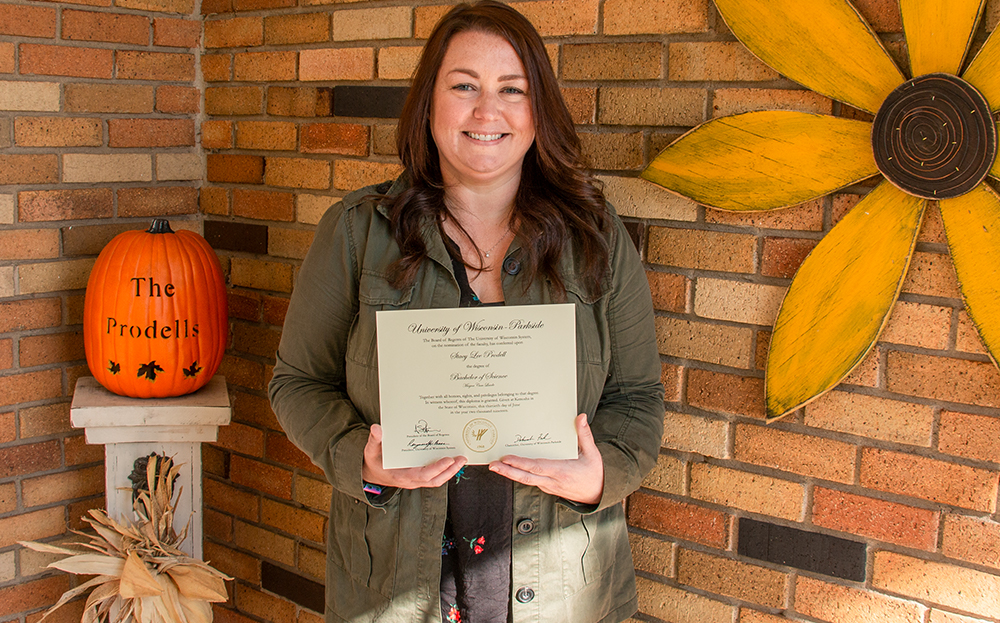 Through competency-based education (CBE), students complete courses at their own pace, and their prior or current work experience is highly valued. Graduates, like Stacy Prodell, have found the CBE model beneficial in balancing coursework, family, and job responsibilities:
"If you were like me—really afraid of how much time getting your degree is going to take away from your family life—just know that it didn't impact mine even a quarter as much as I thought it was going to. I think there's a lot of people like me who would really benefit from an online program like this. It has changed my life, so why not yours too?
—Stacy Prodell, Spring 2019 UW Business Administration graduate
RELATED: First Business Administration Graduate Uses Degree to Further Dentistry Career
A Reliable Degree Built for You
Looking for more reasons why earning a business administration degree is the right choice for your future? Check out the AACSB accredited UW-Parkside Bachelor of Business Administration curriculum or contact a helpful enrollment adviser at 608-800-6762 or flex@uwex.wisconsin.edu.