Are you thinking of changing careers but not sure which direction to go? Have you been thinking about going back to school, but struggling to identify which subject to study? A liberal arts associate degree may be the best solution for you. It can help you gain the skills you need to level up in your career and increase your earning potential. 
What is an associate degree?
There are several different types of associate degree programs to choose from, including those that are career-specific and those that are based in the liberal arts. An associate degree is an educational credential between a high school diploma (or GED certificate) and a bachelor's degree. On average, associate programs are 60 credits and take 2-3 years to complete. Associate degrees prepare graduates with foundational knowledge and skills—such as critical thinking, oral and written communication, and resourcefulness, and can serve as a stepping stone to a bachelor's degree. 
Get a UW Flexible Option Degree Guide
Download an introductory guide (PDF) to the self-paced, competency-based UW Flexible Option programs, including details about costs, admission requirements, and more.
What is a liberal arts associate degree?
A liberal arts associate degree, such as an Associate of Arts and Sciences degree, is broad in its material. The liberal arts are those skills and attributes that describe the opening of the mind and the independence that comes with critical thinking, creativity, and self-sufficiency. The degree focuses on exposure to a diverse array of disciplines and new ideas. 
Study diverse topics, gain applicable skills
Choosing an area of study can be a roadblock for some when choosing to go back to school. There are so many different options, how can you choose just one?
With a liberal arts associate degree, you don't need to choose a focus area. The program features a wide range of topics, including courses in English, arts & humanities, computing, math, natural science, and social science, among many more. Within these courses, you'll learn applicable and marketable skills that can be used in any job area, such as communication and problem solving. Taking a variety of courses to earn your associate degree allows you to work in classroom test environments geared to help you learn and strengthen real-world skills. For example, a labs-based science course helps you become foundationally competent in critical thinking and problem solving, while a web page development elective fine tunes your attention to detail and creative thinking.
By learning about a variety of topics, it can help you narrow down an area you want to earn your bachelor's degree. An associate degree is a key starting place for over 200 majors. You can learn more about how an associate degree leads to a bachelor's degree here. 
Learn more, earn more
Besides acquiring useful and relevant skills, you'll also have the opportunity to increase your earning potential. According to the U.S. Bureau of Labor Statistics, it pays to earn your associate degree. In 2019, the median weekly income of someone who had a high school diploma was $746. The median weekly income of someone who had an associate degree was $887. That's a median income increase of $6,768 per year.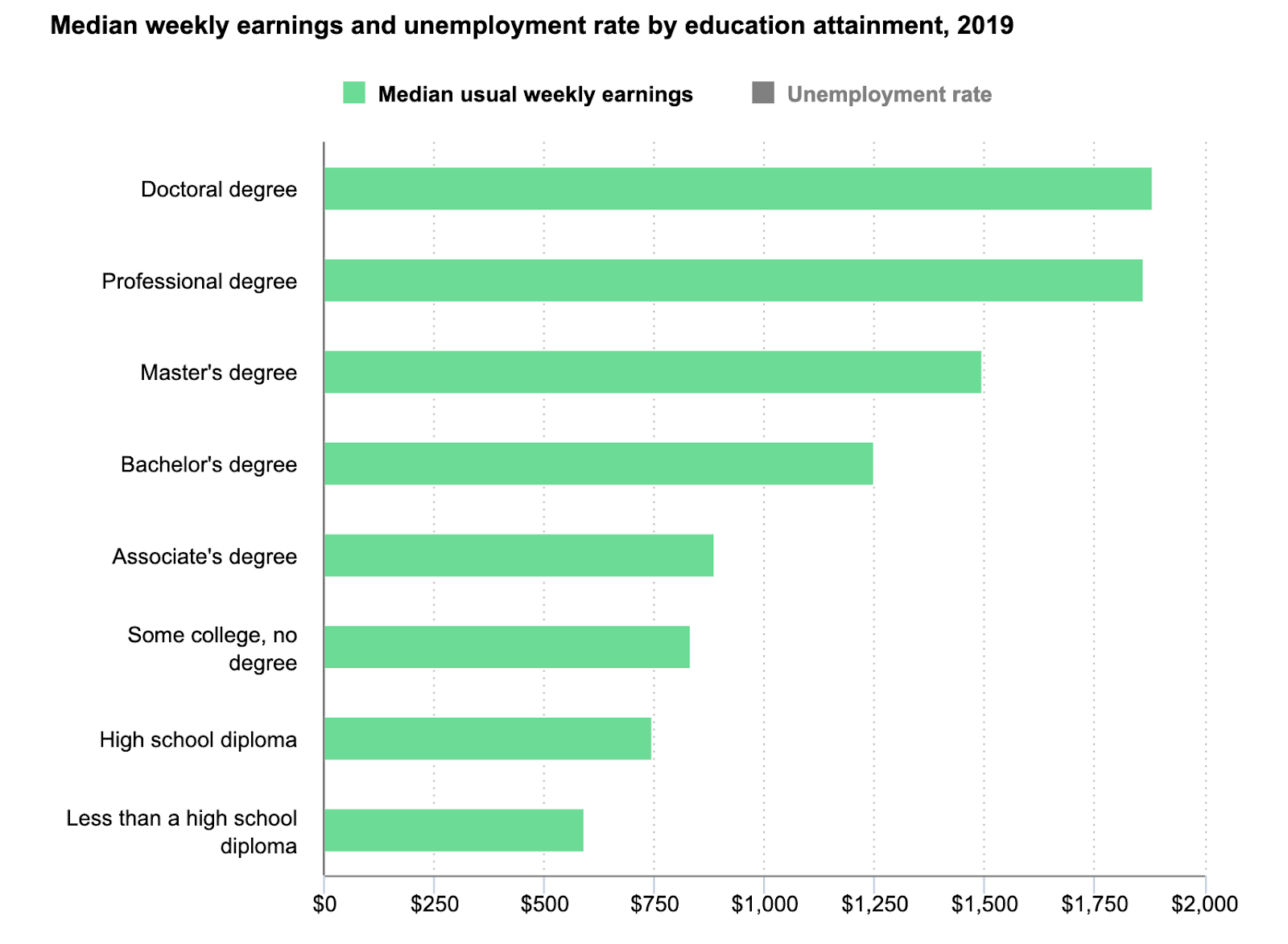 An associate degree can also help you earn a bachelor's degree, which could also increase your earnings substantially. 
Types of jobs for liberal arts associate graduates
Earning your associate degree can open the door to many career opportunities that require education beyond a high school diploma but less than a bachelor's degree. A 2021 Indeed career outlook article provides a range of entry-level business, customer service, caregiving, and administrative positions that can be held by liberal arts associate degree graduates. Some of these positions include: receptionist, customer service representative, administrative assistant, and more.
According to a 2021 Emsi job posting report for liberal arts associate degree-level occupations, administrative waste management and remediation services, retail trade, and professional technical services rounded out the top three hiring industries.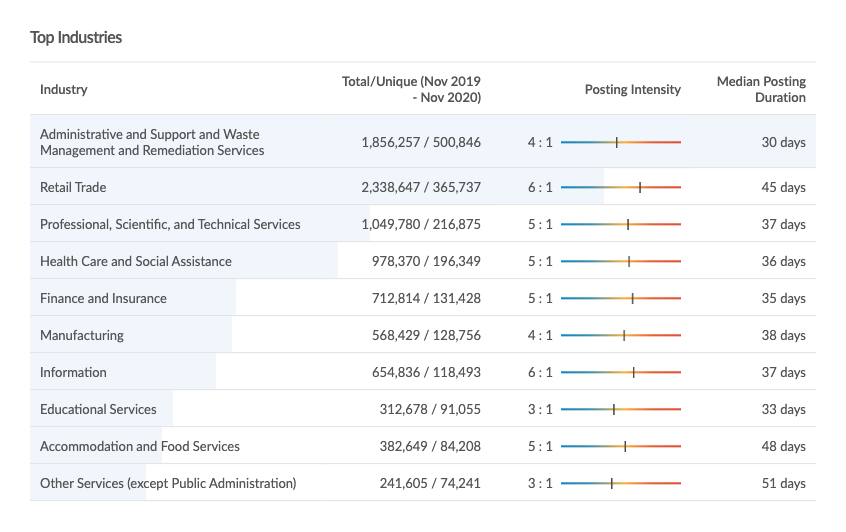 Across all industries, potential employees are expected to have a number of skill sets, such as customer service, sales, communications, management, and leadership.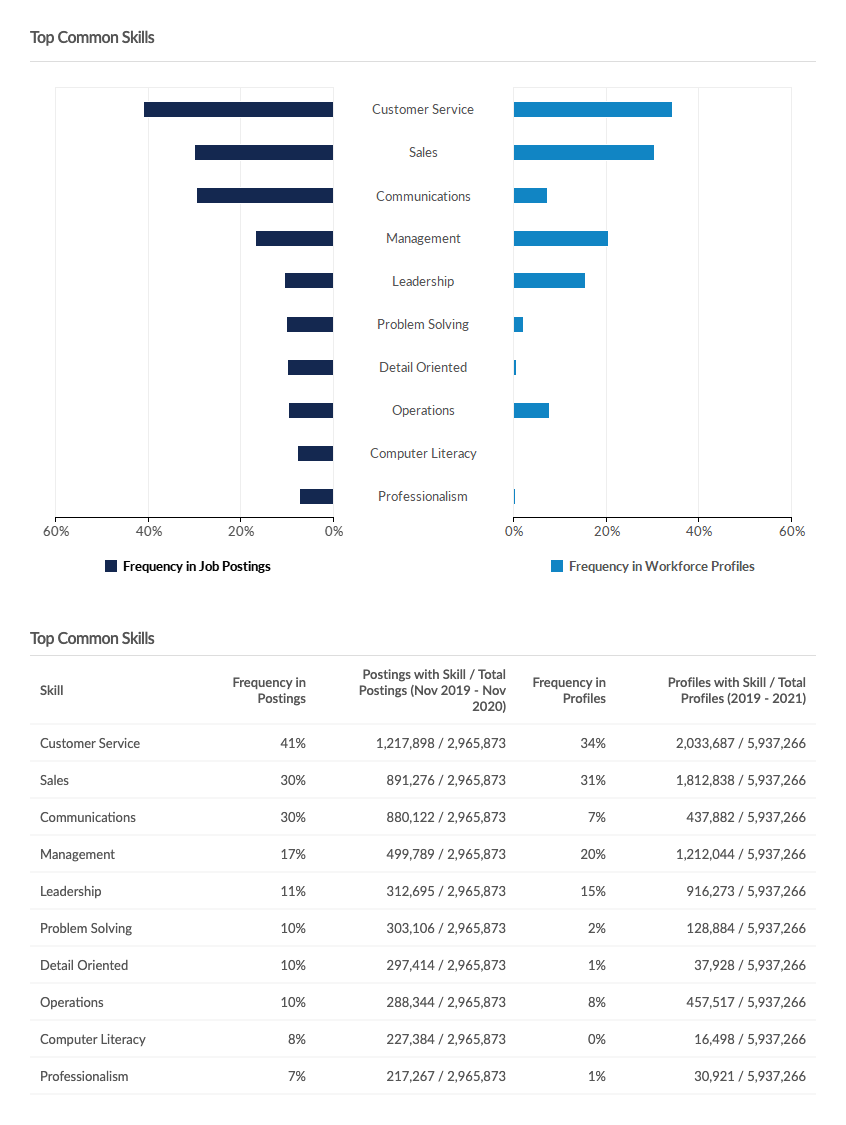 Earn an affordable associate degree, on your schedule
The liberal arts UW-Milwaukee AAS degree offered through the UW Flexible Option is competency-based and self-paced, allowing you to move through courses as quickly or slowly  as you feel comfortable. There are no rigid course schedules or academic deadlines. Instead, you complete assessments to prove you've mastered the material whenever you're ready and able. If you are struggling with a concept, you can take the extra time you need to study it without the pressure of a looming exam deadline.
The UW Flexible Option provides you an affordable opportunity to earn a UW-Milwaukee associate degree. UW Flexible Option programs feature flat rate tuition. You take as many online classes as you are able in a 12-week subscription period for a single cost with our  "All-You-Can-Learn" option. Since it is a flat rate, the more courses you take in a subscription period, the lower your cost-per-class becomes and—better yet—the quicker you graduate. There are no segregated fees beyond tuition, saving you even more money.
Not only is your tuition set low, it will also stay low. Your tuition won't increase, no matter how long it takes you to complete the program. That's the Flex Tuition Guarantee. 
Supported, always
Even though you move through your UW Flexible Option program independently, you are not alone. When you begin, you're paired with an Academic Success Coach who serves as your main go-to person as you move through the program. Your coach is your mentor and adviser, ready to help you earn your associate degree. Your coach will answer questions, offer advice, and connect you with any resources you may need.
You can also expect to get to know your instructors. They are available for any questions you have about the content, and can help point you in the right direction for academic resources.
A path to your dream job
UW Flexible Option associate degree graduate Victoria had the goal of becoming a math teacher. She wanted to begin by working a flexible schedule as a substitute teacher, but she needed an associate degree first. The UW Flexible Option allowed her the flexibility she needed while raising her children.  
"I know that a lot of people go through what I've experienced: failing at college, struggling in a class, or having trouble at work, and it wears you down. It can really hurt your spirit," she said. "But finally being able to get a degree—it can restore you."
Are you ready to advance in your career? Call an enrollment advisor at 608-800-6762 or flex@uwex.wisconsin.edu.
*Note: If you prefer a more structured schedule, UW Extended Campus also offers a semester-based associate degree program. Read this helpful guide on choosing which format may be best for you.