Recently, you may have gained a new perspective on your career as a registered nurse (RN). Whether you find yourself in a role or specialty that no longer serves your interests, or you're looking for a change of pace and responsibilities, earning your Bachelor of Science in Nursing (BSN) can reinvigorate your career with new opportunities.
Here are five ways a BSN can make a difference:
#1 Thrive in a Nursing Specialization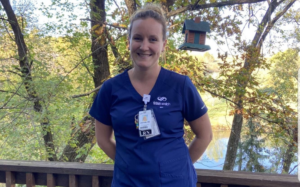 RNs in specialty units, such as acute care and mental health, are required to have their BSN. Other roles, including clinical nurse specialist (CNS) and certified registered nurse anesthetist (CRNA), also have a BSN prerequisite. Nationally, more than half of nursing positions require a bachelor's-level nursing degree, so to seize more job opportunities, earning your BSN is a smart choice.
Jeanette Williams earned her degree through the 100% online UW-Milwaukee Bachelor of Science in Nursing program, offered through the UW Flexible Option, which allowed her to find the specialty she is passionate about. After taking the NURS 448: Mental Health Nursing Across the Care Continuum course, she decided to shift her focus from public health nursing to mental health.
"It's nice to finally have my bachelor's degree done and to have the option of being able to work in a specialty that really interests me," Jeanette said.
Get a UW Flexible Option Degree Guide
Download an introductory guide (PDF) to the self-paced, competency-based UW Flexible Option programs, including details about costs, admission requirements, and more.
#2 Better Manage Work/Life Balance
In some cases, RNs in a BSN-required nursing speciality or care unit have more shift options. While going back to school as an online nursing student may throw off your work/life balance at first, one big payoff is having more control of your time once you complete your degree.
RELATED: What Can You Do with a Bachelor of Science in Nursing?
#3 Get that Promotion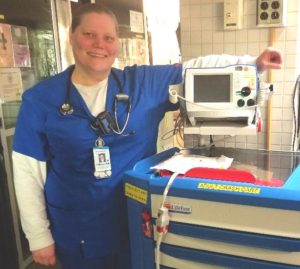 Earning a BSN shows supervisors that you are ambitious and eager to advance your nursing career. The final capstone course in the online UW-Milwaukee Bachelor of Science in Nursing requires students to apply the core competencies they've learned in the program into practice—focusing on improving clinical outcomes in their unit.
Tiffany Breezee, a nurse manager and graduate of the UW Flexible Option RN-to-BSN program, reduced the C.diff infection rate in her ICU by 86 percent through her capstone project. She and her nursing staff were recognized organization-wide for their success.
#4 Move to a New Healthcare Setting

To say it has been a challenging time for nurses is an understatement. Burnout and compassion fatigue continue to impact the mental and physical health of healthcare professionals. Many RNs are looking for different work environments—clinics, home health, outpatient—that offer flexibility while still being able to provide high-quality care. A BSN can give RNs a leg up when interviewing for positions in a variety of healthcare settings.
RELATED: 7 Questions Adult Learners Should Ask When Pursuing a Nursing Degree
#5 Prepare for Graduate School
Some nurses are drawn to the educational side of the profession. A BSN is the first stepping stone from RN to educator. After completing a BSN, nurses can earn a Master of Science in Nursing or a Doctor of Nursing Practice. Inspired by the differences they were able to make through their capstone projects, many UW-Milwaukee Bachelor of Science in Nursing graduates have decided to apply to grad school—even if that wasn't part of their initial plan.
If you are a motivated, self-directed learner who prefers to create and manage your own deadlines, the 100% online UW-Milwaukee Bachelor of Science in Nursing, offered through the UW Flexible Option, might be what takes you to the next level of your nursing career.
Call or email a helpful, knowledgeable enrollment adviser to get started at 608-800-6762 or flex@uwex.wisconsin.edu.