The number of travel nurses has increased dramatically over the past two years. This doesn't come as a surprise—there are several benefits of travel nursing. Some include traveling all over the world, staying at one location for a short period of time (often 12 weeks), experiencing a variety of patient settings, and additional compensation for housing and travel. 
Travel nurses are often interested in continuing education, but aren't sure how to fit earning a bachelor's in nursing (BSN) into an often unpredictable schedule. Fortunately, there are resources and online degree programs built with travel nurses in mind:
1. Search for a flexible, online BSN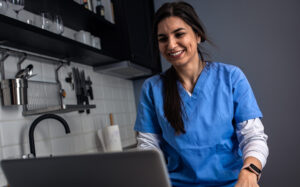 As an American travel nurse, how do you work and study from anywhere in the world? Earn a 100% online BSN so that location isn't a factor. Finding an online program that's compatible with your highly changeable schedule is key.
The UW-Milwaukee Bachelor of Science in Nursing, offered through UW Flexible Option, offers courses through 12-week subscription periods—approximately the same amount of time as a travel nurse assignment. You can enroll in one course at a time for a fixed rate with no out-of-state tuition markups. Or, if you're looking to move at a faster pace, choose the "All-You-Can-Learn" option, and enroll in as many courses you'd like during a single subscription period. Tuition rates are guaranteed for the entire time you are in the program, so you won't be surprised by a tuition increase. 
Get a UW Flexible Option Degree Guide
Download an introductory guide (PDF) to the self-paced, competency-based UW Flexible Option programs, including details about costs, admission requirements, and more.
2. Enroll in a competency-based education program
Beware: Not all online BSN degrees are created equal. To maximize the skills you already have, make sure to choose a competency-based education (CBE) degree format. For example, the online UW-Milwaukee BSN, allows you to complete assignments on your own schedule, with no set log-on times, and no group work to complicate your study plans. You move through the program by completing projects and passing assessments, where you can utilize your established nursing skills. Also, the CBE format means you can start any month of the year.
RELATED: 7 Questions Adult Learners Should Ask When Pursuing a Nursing Degree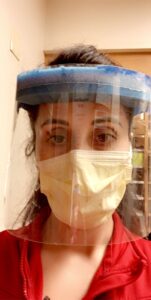 3. Choose a degree program that allows you to take breaks (without losing progress)
Students in the online UW-Milwaukee BSN are able to complete the program in as fast as six months. However, taking the pace that works for your travel nurse schedule is highly encouraged. Whether your travel assignment becomes challenging, you have upcoming plans, or you just need a break from school work, pausing your studies is never penalized. With no traditional semester schedule, you can pick up right where you left off and resume your academic plan when you return.
"It was great to know taking a break was an option and not something that would hurt me in the long run. I knew taking that time off would make me more likely to keep going." —Erica Wildes, travel nurse and UW-Milwaukee BSN graduate
4. Complete a capstone that seamlessly integrates with your travel nurse role
The capstone is the final, immersive course in a BSN program. Your knowledge and experience is applied within your current work practice setting as a travel nurse. Previous students of the UW-Milwaukee BSN program have been actively involved in quality improvement initiatives at their places of work; engaging in committees, audits, and more.
"Our students practice nursing in diverse settings all over the country," said Nicole Simonson, UW-Milwaukee BSN Academic Program Lead. "We are creative in supporting our students so they are able to actively engage in their capstone, wherever they are."
RELATED: Busy Nurse Finds Opportunity to Complete Degree through UW Flexible Option
With short travel assignments that can take you all over the world, you might wonder how a travel nurse can complete an in-depth capstone when moving around. Travel nurse and UW-Milwaukee BSN graduate, Erica Wildes shared her experience:
"I thought my capstone project would be hard because I was temporarily working in Virginia. I ended up splitting up the class—collecting data onsite, but then completing the class after I left the Virginia hospital. Nicole completely molded the class so that I could be successful."
5. Apply for tuition reimbursement and scholarships
If you work for a travel nurse agency, contact your employer to see if tuition reimbursement is offered. With many hospital systems pushing for all registered nurses to hold a BSN, there may be some assistance available in covering tuition fees. 
Additionally, you may qualify* for local and national nursing scholarships and grants:

*Thoroughly check to make sure you qualify for specific scholarships and grants. This is not an exhaustive list. Regularly check for updates and deadlines throughout the calendar year.
As a travel nurse, you are positioned for an exciting career that can literally take you anywhere. Don't let the busyness of your work schedule make you second guess your ability to earn your BSN! With the right online program, pursuing higher education is well within your reach.
If you are a motivated travel nurse who prefers to create and manage your own deadlines, the 100% online UW-Milwaukee Bachelor of Science in Nursing, offered through the UW Flexible Option, might be what takes you to the next level of your nursing career.
Call or email a helpful, knowledgeable enrollment adviser to get started at 608-800-6762 or flex@uwex.wisconsin.edu.